How to Create Your Custom Printed Coffee Bags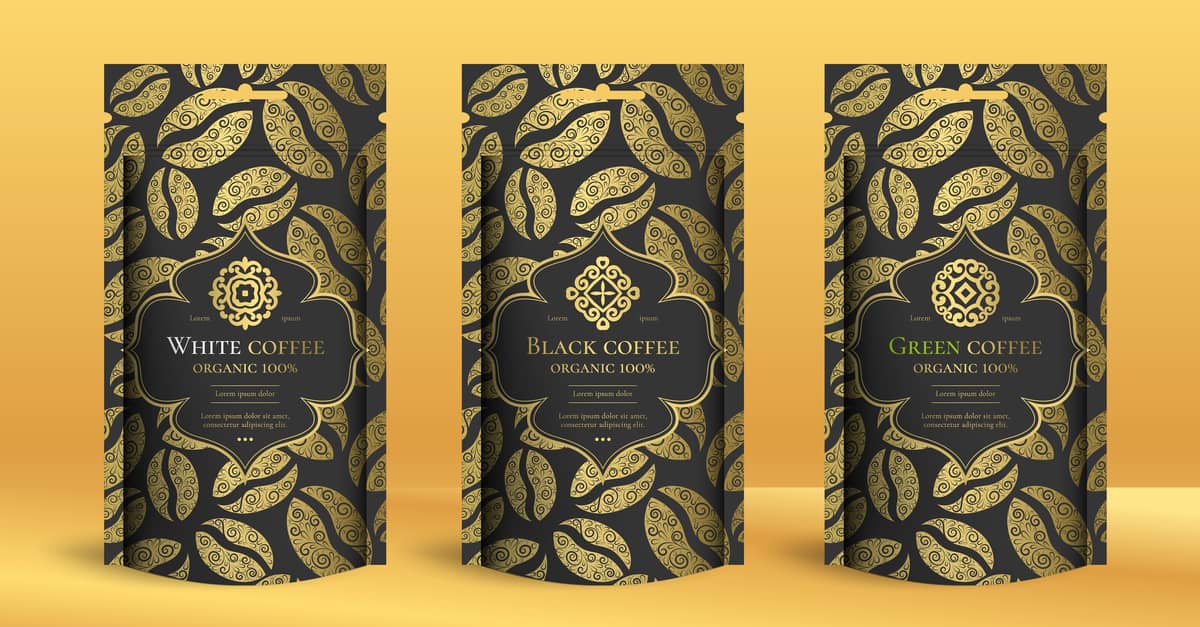 If you own a coffee business, how you set yourself apart from your competitors will be the difference between being recognized as a quality coffee brand that attracts customers and becoming just one of many coffee brands on the market. Creating custom printed coffee bags can strengthen your brand, improve visibility, and promote a more professional image that leaves an impression. In this post, we'll explain what custom printed coffee bags are, how to create one for your coffee business, and some key tips to ensure your label is a success.
What Is a Custom Printed Coffee Bag?
Your custom coffee bag packaging is just as important as the taste of your coffee. A custom printed coffee bag is essentially a bag designed with your specific ideas in mind. These designs can be simple, complex, use few colors or many. Ultimately, you decide what designs to include on the packaging, which is then used to market your business and reach your target audience. Custom coffee bag packaging is important because it's a crucial aspect of business success. This is because it enables you to differentiate your brand and stand out among other coffee businesses. The truth is, some coffee brands have great-tasting coffee, but fail to create a custom label and bag to match. Unfortunately, these coffee brands get looked over, making them difficult to sustain. In addition to this, quality custom coffee packaging leaves a lasting first impression. If you want to attract customers and increase revenue for your business, custom packaging is the perfect place to start.
How to Create Custom Printed Coffee Bags
If you have a coffee business and are ready to create your own custom printed coffee bags, there are a few steps that you will need to follow. Read on for a step-by-step guide on creating your own custom coffee bag packaging.
Step 1: Design Your Print Label
The first step is to design your print label. This is the time to let your coffee brand shine. You can design your label on your own, use a template, or use the help of a designer.
Designing On Your Own
If you have design skills, you can opt to design your custom coffee bag packaging yourself with the help of design software. Here are a few popular types of software to consider.
Adobe Dimensions

Illustrator

Filestage

Boxshot
Using a Template
Using a template is a good middle ground between self-designing and using a professional. There are various platforms where you can download quality templates to use for your product. For instance, here at The Packaging Lab, we offer businesses templates that are ready for print.
Hiring a professional
If it's within your budget, hiring a professional designer can be a great way to leave a lasting impression. A professional designer can design a coffee print label for you. Just be sure to have an idea of what you're looking for to enable the designer to create something that best represents your coffee brand.
Step 2: Deciding Where to Print
Once you have your design, it's time to look for a place to print. If you do a quick search online, you'll notice that there are a variety of places that offer custom printed coffee bags. But keep in mind that not all custom-printing companies are created equal. With that said, you'll want to consider a few factors when determining where to print. Some things to consider include:
Quality of packaging

Material available

Price

Quantity

Turnaround time
Here at The Packaging Lab, we offer custom packaging made simple for our customers. At our custom printing lab, businesses get to make a variety of customizations to create a custom coffee bag packaging that's completely unique to their business. In addition to this, we offer a turnaround time as fast as 24 hours with no minimum order quantity.
Step 3: Make Your Selections
After you've decided where to print, you will have other important selections that you will need to make. These selections will help mold the final outlook of your custom coffee bag packaging. Some selections include:
Bag Type:

There are a couple of options when it comes to your coffee bag. Some popular coffee bag types include Flat-Bottom bags, Quad Seal bags, Stand-Up pouches, and Lay-Flat pouches. Each one has its own benefits, but the type of bag you choose will ultimately depend on your design preference.

Material:

Another important decision will be the type of material you use for your coffee bag. In fact, the material isn't just about design, it also impacts the overall quality and freshness of your beans or grounds. With that said, it's important to choose a high-quality material that will help preserve your coffee. Some materials to think about include clear, white, and metalized.

Finish:

The type of finish you choose for your coffee bag is an important decision. Not only does it work together with your label text, but it makes an impression on coffee buyers all on its own. For this reason, it's important to choose your finish wisely. Two common finishes include high gloss and matte.
Step 4: Decide How Many Quantities You Need
Once you've figured out all of the design aspects, the last step you'll need to do is decide how many quantities you need. You should have a variety of quantity options ranging from a small set to a large set. Consider your budget and the number of customers you serve to determine the number of bags you need.
Three Tips When Creating Custom Printed Coffee Bags
Here are three tips that will help you create a custom coffee bag packaging you'll love.
Choose a Design That Represents Your Brand
Design plays an important role in communicating your brand. With that said, be sure to choose a design that represents your coffee brand effectively. For instance, if your coffee has a more classic feel, using design fonts such as Futura or Garamond can help communicate that. Similarly, if your coffee focuses on bold flavors, using a font that feels strong and bold will offer the best representation.
Consider Your Color and Material Combination
Custom-printing your coffee bags offers a lot of room for creativity, especially when it comes to color. But be mindful of your color and material combination to avoid clashing. For instance, using a white font with a clear bag may not offer the best readability. At the same time, a silver font with metallic material can certainly add stress to the eyes.
Include All Necessary Information
Aside from design, it's important to include all necessary information on your label. For instance, some information necessary on your label includes:
Roast date

Use (Drip vs Espresso)

Roast level

Flavor notes

Whole bean/ground

Country of Origin
Custom printed coffee bags can certainly take your coffee business to the next level. A custom printed coffee bag adds an extra layer of professionalism, helps to differentiate your brand from competitors, and leads to a more memorable coffee brand.
In Closing
Whether you're in the coffee industry or a market entirely different, customized packaging is beneficial to consider as it will help your brand gain traction. The coffee industry in particular is competitive, meaning there are numerous vendors offering your target audience the same product. By creating custom coffee bag packaging, you can stand up against the competition, increase brand awareness, and experience higher sales. Contact us today to learn more about how to design your custom printed coffee bags.