MARIJUANA EDIBLE PACKAGING AND BAGS
Are your products moving slowly despite the exponential growth of the edible industry? It is time to check your edible packages. Today, you can infuse virtually any edible with cannabis. However, you may need more than just your infusion technology and expertise. You need to make your products stand out in the market by using the right edible packages.
At the Packaging Lab, we understand your need for quality and outstanding edible packaging materials for your products. We offer flexible printing solutions for edible baggies, and other packaging solutions to help you move with the trends in the market. Whether you deal with candy and confectionery, or baked products like cakes, cookies, or brownies, we have the perfect packaging for you.
Our marijuana edible packaging materials not only take into account the unique needs of the industry but also allow for a customized approach. Whether you want to handle the design in-house or have one of our talented and experienced team members lend their expertise, we can help.
Why should you work with us? Well, if you value flexibility, quality, and a turnaround time of less than a day, then we are the right partners. Here you can go through the packaging process, sample our products, and request a free quote. Remember, you can order custom packaging at zero tooling cost.
THE PACKAGING PROCESS
Regardless of your product stage— introducing a new product on the market or simply rebranding, deciding on the right edible packages can be overwhelming. You have to think of the packaging materials, presentation, and security features of the package. You need to understand the market needs, as well as the level of competition. Besides the challenges of selecting the right features on your marijuana edible packages, you also need to select the right packaging partner.
Before you settle on edible packages, ensure they are made from a durable material, protect the product, and the presentation is appealing to your customers. Most importantly, get a packaging partner who is ready to supply you with custom edible packages for when and how you need it.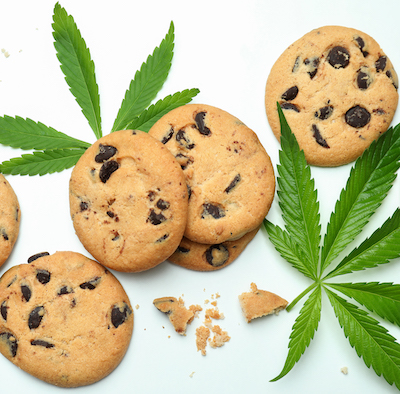 BAGS FOR EDIBLES
Our custom bags could be the real game-changer in your marketing strategy. With a turnaround time of less than twenty-four hours, you can count on us to deliver high-quality edible bags and pouches for your cannabis edibles. The good thing with our bags for edibles is that we have no minimum order. We, therefore, provide custom edible packages for both small and established cannabis edible dealers. You can order our organic product packaging for CBD or THC supplements.
Our snack packaging is also a perfect way of presenting baked edibles to your customers. The packaging perseveres the quality and consistency of your baked edibles to provide optimal satisfaction for your customers. We also have custom smell-proof bags that have re-closable zippers and tear notches that not only maintain the aroma of the edible but give your customers the confidence to carry their edibles wherever they go.
Quality edible bags could be the missing link between you and your customers. In a field where edibles have become the new trend, the manner in which you present your product may be the difference between a sale and a disappointment. Since one can literally infuse cannabis in any edible and put it out on the market, customers may be spoilt for choice.
In short, there are thousands of other businesses dealing with cannabis edibles. Whether you are dealing in cannabis gummies, candies, chocolates, brownies, cookies, or cakes, the packaging is your first contact with your customers. Grab your customers' attention with our custom-made edible bags.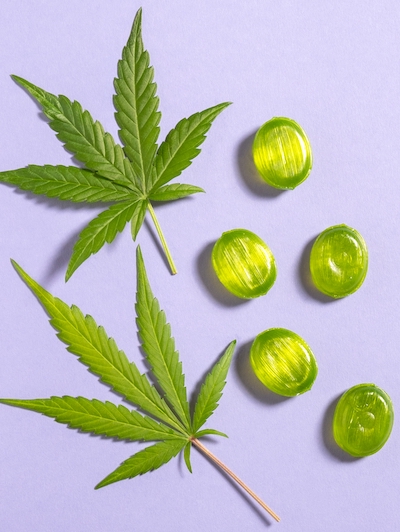 EDIBLE GUMMY PACKAGING
The edible gummy market is not only concerned about the product consistency and effectiveness but about the packaging as well. Trendy edible gummy packaging can tell your product's story, elicit emotion, and even be a work of art that influences purchasing behavior. At the Packaging Lab, we do not limit your design and creativity. Our flexible packaging printing solutions for edible gummy bags are only limited by your imagination.
We can walk with you on your product differentiation journey by providing you with custom gummy packaging that makes your products stand out in the rather crowded market. Whether you are a new entrant in the market or an established cannabis edibles dealer, you have you covered. You can place an order for your desired edible gummy packaging and have it delivered within a day. Since we offer custom products, we use your design and logo for your gummy packaging. However, we can also assist you in designing appealing packaging for your gummies. Here are some ideas for gummy packaging:
Clear Window Bags: If you are in a new market, you may want customers to see through the packaging before they make a purchase. A clear window bag could also be a good way of introducing the product to new users.
EDIBLE CANDY EDIBLE BAGS
Candies are also popular in the cannabis edible industry. However, given their popularity, you may need to up your packaging designs. At Packaging Lab, we understand the competition in the candy market and have rolled out custom packaging that makes your products conspicuously attractive. We provide you with high-quality custom candy pouches, sweet packaging or confectionery packaging to help you move your business to the next level. Our production capabilities and flexible candy packaging printing solutions allow you to make orders according to seasons and special occasions. We allow you to change the printing style, message, and color of the packaging to align with your marketing strategy. Take advantage of our flexibility to design and redesign your packaging to create an edge in the market.
Other than the flexibility in printing solutions, we also offer quality packaging products that preserve the edibles and make it easy for your customers to use them on the go. We also understand the need for creative packaging in the edible industry. As such, we provide you with a wide range of packaging designs and materials.
HIGH-QUALITY EDIBLE PACKAGING MATERIAL
At the Packaging Lab, we fully understand the need to preserve edibles. We also understand industry-specific requirements, regulations, and trends. You can trust our experience in the packaging industry to preserve the quality and consistency of your edibles, as we only use tested and proven marijuana edible packaging materials. In addition, our flexible printing solutions are only limited by your imagination. When you work with us, your products will stand out in the market and attract customers. The quality of the packaging and material also helps to retain your customers.
Unlike other foodstuffs, cannabis edibles may need more than just packaging. While you need to observe all the safety standards for food packaging, you also need to go the extra mile to preserve the consistency of the product. You may also want smell-proof packaging that can be used and zipped, depending on the customer's preference. If the above paragraph defines your business needs, then Packaging Lab is your perfect partner.
At the Packaging Lab, we offer quality packaging bags for all edibles. Whether you deal with baked products like cakes, cookies, brownies, or candies and confectioneries, we have the right packaging for you. We have a turnaround time of less than 24 hours, meaning you can make an order and have it delivered the next day. Our speedy delivery reduces your inventory holding cost, as well as allows you flexibility in printing and branding your products according to the seasons.