CUSTOM BATH SALT PACKAGING AND POUCHES
We offer a streamlined process to create custom bath salt packaging. You can upload print-ready packaging for bath salts designs to produce food-safe pouches, bags, and roll stock film. Your bath salts will convey your brand identity and attract customer attention.
Ordering custom bath salt packaging bags is simple with all of our customization options. These custom made bath salt bags come in white, transparent, or metalized substrates. A gloss or matte finish helps convey your design aesthetic to the customer. Choosing custom resealable bath salt packaging will ensure your bath salts are protected from water and humidity so consumers can enjoy them over time.
Whether you're a new business or want to revitalize your bath salt packaging bags, The Packaging Lab is a one-stop shop. You can consult with our design team to bring your packaging for bath salts vision to life, so contact us today.
BATH SALT POUCH PACKAGING
There are two main options for bath salt pouch packaging: Stand-up pouches and lay-flat bath salt packaging pouches. Both offer something different for your business and customers.
Stand-up pouches have a bottom gusset that expands when you fill it with your bath salts. The gusset makes it sturdy enough to stand so that you can display these bath salt packaging bags on a shelf.
Lay-flat bath salt pouch packaging is ideal for smaller portions of bath salts. If you plan to release a gift set or a sample pack so consumers can try all your options, lay-flat packaging for bath salts is a great way to do it. The compact packages come in different sizes and can fit together within a larger container.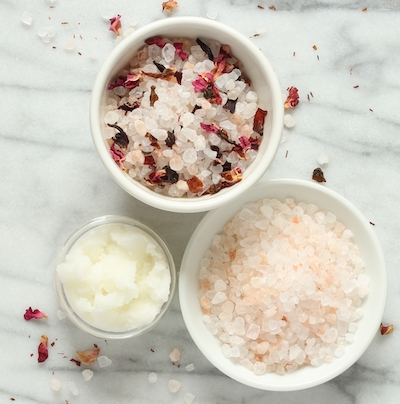 STAND-UP POUCHES
Stand-up pouches as custom bath salt packaging bags ensure you show off your brand aesthetic to your customers. You can choose to print the graphics on white, transparent, or metalized plastic bags. Add a gloss or matte film finish to make your bath salt pouch packaging look even more upscale. These printed bath salt bags also come in 12 sizes.
We offer a wide range of additional features for your bath salt bag packaging, including a resealable zipper just below the bag's tear notches and hole punches for easy product hanging. Add convenience to your printed bath salt bags.
LAY-FLAT BATH SALT PACKAGING POUCHES
Offer another way to buy your product with gusset-free lay-flat bath salt packaging pouches that easily stack, take up less space and help to save on storage and transportation costs. Reduce extra packing by choosing only the size you need based on width and length alone. Pick the perfect bath salt bag packaging size for small orders, limited runs, and samples.
We can customize these printed bath salt bags for you just like the stand-up option, in a wide variety of sizes, materials, and additional options such as:
White, transparent, or metalized plastic substrate
Matte or gloss finish
Resealable zipper beneath the tear notches
Hang hole for display options
Don't let a need for a small quantity deter you. Order one lay-flat bath salt packaging pouch or 10,000 custom made bath salt bags. Meet your deadline with our one to five-day turnaround time.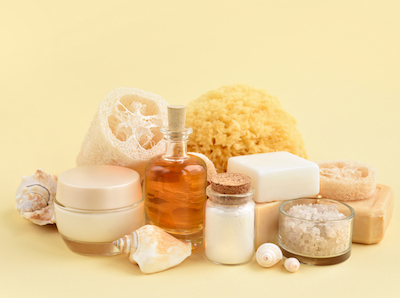 CUSTOM RESEALABLE BATH SALT PACKAGING
Set yourself apart from your competitors by offering custom resealable bath salt packaging that extends the shelf-life of the bath salt even in humid bathroom environments. Keep moisture out with a zipper fastening and offer your customers an improved bath salt product that stays fresh after each use.
Elevate your resealable bath salt packaging with custom bath salt bags with logo and brand identity that speaks to your customers of top quality with easy-to-open tear-notch packaging that doesn't require scissors to open or a clip to keep closed. Custom resealable bath salt packaging will undoubtedly set you apart from your competitors, and we can help do just that.
ROLL STOCK FILM FOR BATH SALT
Expand your bath salt bag packaging options beyond the pouches listed above and unlock custom bath salt packaging. By ordering roll stock film from The Packaging Lab, you can have customized graphics that allow you to leave room for blank space, registration marks, and bleed in a variety of substrates, such as:
Transparent film in thin, medium, or thick gauge
White film in medium or thick gauge
Metalized film in medium gauge
Cover existing packages with your brand's logo and colors which helps to build your brand identity and maintain a consistent message. Revitalize your business without throwing out old bath salt pouch packaging. Cover it instead with roll stock film designed by The Packaging Lab. Bath salt bag packaging doesn't have to be boring - we make sure of that.
CUSTOM BATH SALT PACKAGING DESIGN
No in-house designer? No problem! You don't need design skills to create stunning custom bath salt bags with logos. If you're a business that wants a logo and branding system, we offer a Design for Me service where you put your design in the hands of our in-house creatives.
For a small, one-time fee and a 30-minute phone consultation with our expert designers. It won't be a generic logo either; we use your aesthetic, colors, inspiration, and images for your custom made bath salt bags.
Choose one design for production, and we immediately start the bath salt pouch packaging production process. Even new businesses can create custom bath salt bags with logos.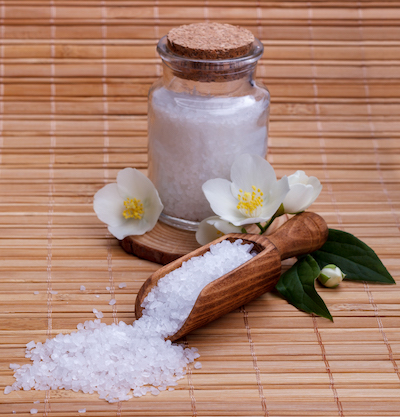 GET YOUR FREE BATH SALT PACKAGING SAMPLE PACK TODAY
We offer so many custom bath salt packaging options that you might not know what to choose. Order a free sample pack to see how your final custom made bath salt bags can look. You'll get an assortment of printed bath salt bags and print overruns from actual customers. Requesting a sample lets you see how your product can look in fresh custom bath salt bags with logos.
Contact us at The Packaging Lab for information about samples and see options related to packaging for bath salts.