CUSTOM CHIP PACKAGING AND POUCHES
Creative product marketing is the key to making customers interested in your delicious chips. At The Packaging Lab, you can count on having the best design tools at your disposal. With our fast turnaround times, you can start distributing your chips in as little as 24 hours. Contact The Packaging Lab today to get started on your custom design for chip packaging and pouches.
CHIP POUCH PACKAGING
When you think of chips, you likely think of pouches. The Packaging Lab specializes in producing custom pouches for every product. We use the best quality products to make our chip pouch packaging, so you know that your chips will be safe and secure from packaging to your customers' tables.
We have several options available. These include our stand-up pouches, lay-flat pouches, and custom resealable chip packaging. Here's a brief overview of our packaging for chips.
STAND-UP POUCHES
For standing up on a shelf to catch customers' attention, stand-up pouches are your best friend. They can hold a larger quantity of products and can easily stand independently with a built-in gusset. If you want to hang your chips up for display, we can add an optional hang hole that resists wear and tear. These pouches' larger design is perfect for bigger chips and odd shapes.
We offer stand-up pouches in white, clear, and metallic film materials to properly keep your chips. You can also add a glossy or matte finish to the film, so your custom chip bags can stand out. No matter the quantity, or the size pouch you need, The Packaging Lab can take care of processing your order efficiently.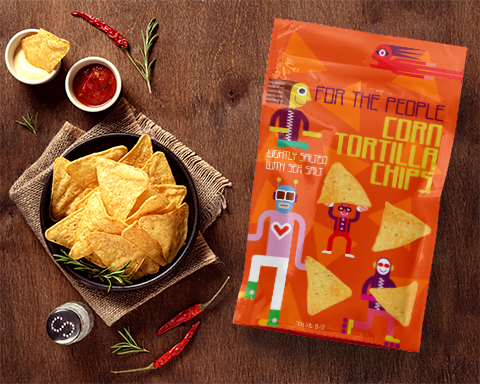 LAY-FLAT POUCHES
Just like our stand-up pouches, our lay-flat pouches are made with quality materials. Lay-flat pouches are great space savers and are perfect for hanging on display, or you can arrange them in a basket or on a shelf just as easily. Since our flat chip packaging is more compact than the stand-up pouches, they make a better fit for flat or thin chips.
Our lay-flat pouches also come in the same variety of film materials and finishes. Whether you decide to hand your pouches or not, you can add a hang hole to make your pouches versatile. As with our stand-up pouches, there is no minimum quantity to the number of pouches you can order. Let us help make the perfect custom-made chip bags for you!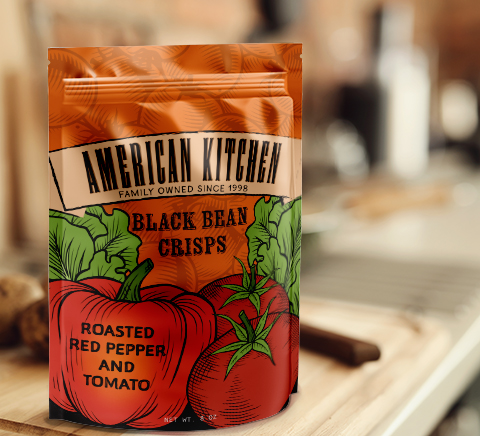 RESEALABLE CHIP PACKAGES
The Packaging Lab understands that not all products are created equal. Although chips don't "go bad", they certainly become stale. All of our pouches are made with tear notches to make opening the packaging easy. That can get in the way of customers' enjoyment if they have leftover chips and no way to keep them fresh.
This is why we offer the option to add a zipper to your pouches. With resealable chip packaging, your chips will last longer than your average store-bought chips. Your customers can enjoy convenient resealable packaging and fresh chips. And you can rest easy knowing that you are going the extra mile for your customers.
ROLL STOCK FILM FOR CHIPS
If you already have packaging for your chips, The Packaging Lab can still help. In addition to our pouch production, we also offer custom roll stock film. Use it to make your packaging, or add it to existing packaging to complete your look.
Our roll stock film can properly fit with any packaging you want to label with the correct measurements. You can specify how you want your design printed on the roll and which materials and finish you want to complete your design. As with our pouches, there is no minimum to the amount of film you can order. Order as few or as many as you need.
CUSTOM CHIP PACKAGING DESIGN
The Packaging Lab makes it easy for you to upload your files and use them to make the perfect design. If you don't have a design prepared, don't worry. Our "Design for Me" service puts you in touch with our team of professional designers so you can create the perfect design for your chip pouch packaging.
Our design team is just as dedicated as you are to creating the perfect presentation for your packaging. After you provide our team with an idea that you'd like for your design, you can schedule a consultation with our experts.
You can also find inspiration in the previous packaging that we display on our website, and tell us what you like about it. Together, we can get a good idea of how best to create your design, and apply it to the perfect packaging for chips.
At The Packaging Lab, we are just as committed as you are to having the perfect representation of your product and brand. Our "Design for Me" service is the same price, no matter what product you ultimately choose for your design. We want to make sure that we get everything right the first time, and provide professional service to do so.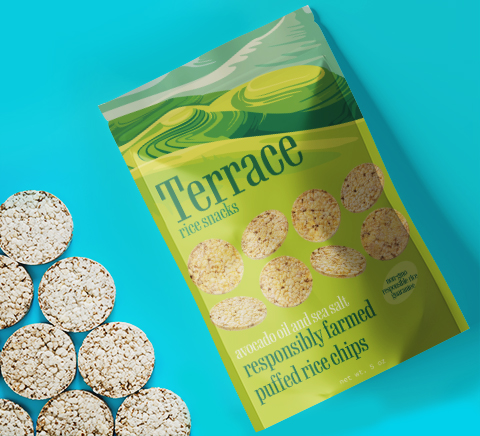 FREE CHIP PACKAGING AND POUCH SAMPLE PACK
Still on the fence about The Packaging Lab? We understand that you want to have the perfect custom chip packaging, and have a sample pack to prove it. At no cost, we will send you our print overruns from our actual customers. You can see our standard sizes, film materials, and finishes in their actual production quality.
The benefit of seeing the product in person cannot be understated. With the visual aid, you will be able to see how our products and services can impact your products and business. The sample pack is yours to keep, so you can see for yourself the excellent quality that The Packaging Lab provides.
Test your chips in any of our chip bag packaging options and find the size that works best for you, or find the film material and finish that you like best before you order. We aim to make things as easy for you as possible, so order our sample pack today.