CUSTOM CHOCOLATE PACKAGING AND POUCHES
With the wide variety of chocolate brands in stores and online, you want your packaging to stand out. A chocolate's packaging says a lot about the product itself. Creating a design that captures the delicacy and deliciousness of chocolate is essential for a successful brand.
Here at The Packaging Lab, we offer custom chocolate packaging that will elevate the appeal of your product. With several packaging options to pick and choose from, you can create your dream custom chocolate bags.
CHOCOLATE POUCH PACKAGING
With two different pouch packaging for chocolates options, you can decide which option best encompasses your brand and chocolate. Both custom chocolate bags with logo options offer different finishes, gloss or matte, and white, transparent, or metalized film materials. Your choices and design will bring your chocolate to life.
Stand-up and lay-flat pouches have separate appeals, and with chocolate pouch packaging in mind, their benefits ultimately come down to what you are presenting to customers. Whichever style you prefer, both make for excellent custom chocolate packaging.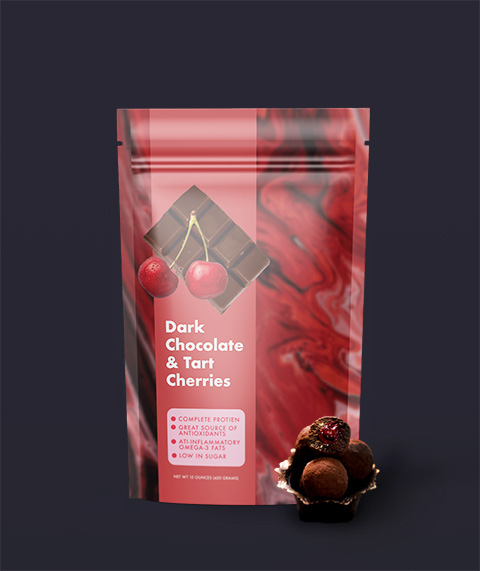 STAND-UP POUCHES
Stand-up pouches are popular because of their appearance. As the name describes, this kind of chocolate pouch packaging can stand, which offers a more considerable appeal in ads and store aisles. Essentially, you don't need to prop these chocolate packaging bags up, making them aesthetically pleasing to the customer's eye and more convenient while customers snack away.
Their ability to stand also makes this kind of packaging for chocolates easier to spot in a store and helps them grab more attention being front and center. With our wide range of materials, styles and different sizes, stand-up pouches are adjustable to the chocolate your brand sells. You can even add hole punches or resealable zippers to your custom chocolate packaging, so it fulfills all your needs and preferences.
LAY-FLAT POUCHES
Lay-flat chocolate packaging bags are more compact and can't stand up on their own. We offer this chocolate pouch packaging style in various sizes to give your brand variety. Lay-flat pouches also have the added bonus of being easier to package together for orders, saving on inventory and transportation costs.
Our lay-flat pouches are perfect for smaller-size products or serving sizes as well as larger ones. Order as many different lay-flat chocolate packaging sizes as you need and add functionality with hang holes or resealable zippers. With super fast turnaround time – even one business day! – these custom chocolate bags are some of the most convenient options when it comes to packaging for chocolates.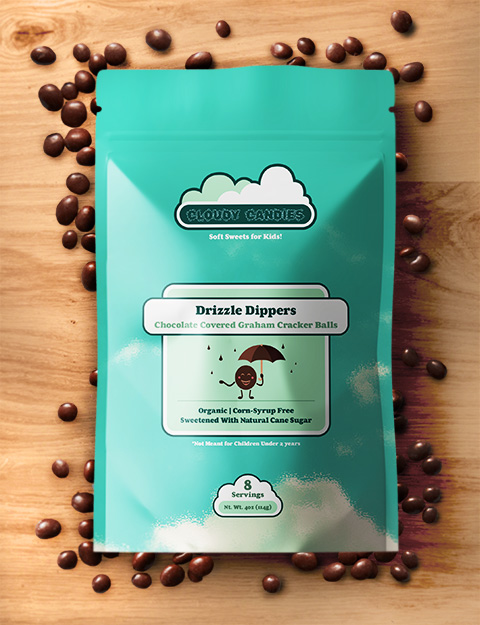 RESEALABLE CHOCOLATE PACKAGES
Add a resealable zipper to your custom chocolate packaging to help extend shelf life for consumers and keep product fresh. Resealable chocolate packaging is vital in the chocolate industry, especially for customers who don't want to eat the entire package in one sitting. Give your customers the perfect custom chocolate bags with your logo for an on-the-go snack that they can close up and save for later.
ROLL STOCK FILM FOR CHOCOLATES
Are you rebranding or want to give your packaging a fresh look but don't want to throw the old packaging away? Then, roll stock film might be your ideal choice.
Roll stock film allows you to use the chocolate pouch packaging you may have acquired elsewhere and still make aesthetic, well-designed chocolate packaging bags. You can order as much roll stock as you need, the size you need. Choose from four variations of unwinding methods with either matte or gloss finishes. You can also customize the gauge with options ranging from thick to thin in clear or white material.
CUSTOM CHOCOLATE PACKAGING DESIGN
Whether your custom packaging for chocolates is stand-up, lay-flat, or covered in a layer of roll stock, we have a design team that can assist you in creating the perfect custom resealable chocolate packaging for your brand. Our Design For Me process is simple and effective but remains entirely your design.
By completing a questionnaire, consulting with a designer, and having the final say, you control the concept, ideas, and style you wish for your custom-made chocolate bags. All of our packaging is FDA-approved food-friendly and will withstand typical freezer environments. We bring your ideas to life and turn them into your brand's printed chocolate bags.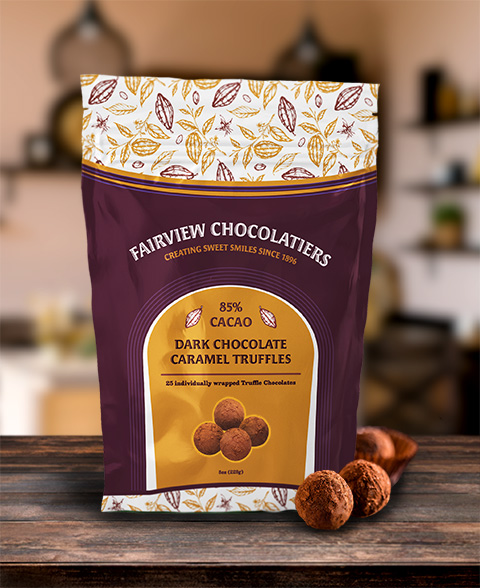 FREE CHOCOLATE PACKAGING AND POUCH SAMPLE PACK
Chocolate bag packaging is made simple with The Packaging Lab. We offer you custom chocolate packaging options ranging from stand-up pouches, lay-flat pouches, and roll stock film, all of which you get to design. With choices for what materials you wish to use to the finish you want your packaging for chocolates to have, your chocolate brand will have chocolate pouch packaging that is as pleasing as the chocolate.
Your first custom-made chocolate bags order can be a free sample pack to show you exactly how we can create the perfect chocolate bag packaging for you and your brand.
It's your chocolate and brand, which is why we strive to keep it that way.