CUSTOM DRY GOOD PACKAGING AND POUCHES
Whether you're just starting out or looking for a new packaging solution for your dry goods, it's crucial to make the right choice. Custom dry goods pouch packaging requires a certain level of attention and care to keep your product fresh and clean.
Choosing a reliable package for your products could be a dealbreaker for your business because customers rely on sturdy packaging that keeps your product fresh. Plus, you need something that showcases your brand so that clients remember you.
The Packaging Lab makes custom bags for dry goods that lock the freshness in so that your product reaches customers the way you intend it to. Plus, we offer customization options so that all of your printed dry good bags match your branding and leave a lasting impression on your customers.
We provide you with options on how you wish to store your products. Whatever style or structure you choose, your dry goods will remain fresh and safe. Keep your customers satisfied today with custom dry goods packaging you can trust.
POUCH PACKAGING FOR DRY GOODS
We offer two different types of custom dry goods packaging, but both pouches have the same customization options.
Whether you decide to go with the stand-up pouches or the lay-flat pouches, we offer a variety of sizes, film materials, film finishes, optional zippers, optional hang holes, and order sizes. Design your dry goods pouch packaging your way.
Whichever form of packaging for dry goods you choose comes down to the product you are selling and which is more convenient for you and your brand.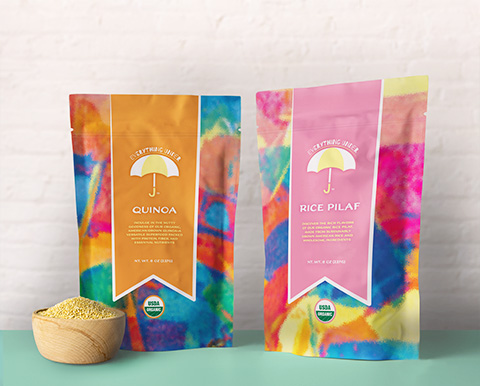 STAND-UP POUCHES FOR DRY GOODS
Stand-up pouches can stand up without additional aid, making them the perfect packaging for in-store shelving or online presentation. When containing dry goods, they must be kept distant from moisture.
Stand-up pouches are a perfect option for dry foods. They are especially beneficial for measured products like flour, sugar, and oats. Their ultra secure seal can also help prevent any moisture from seeping inside.
The stand-up pouch allows space for a measuring spoon or a measuring cup to reach in and makes it more convenient that it can stand on its own while you scoop out the product.
LAY-FLAT POUCHES
Unlike stand-up pouches, lay-flat pouches cannot stand on their own. However, since they lay flat, it's easier to stack them so that they take up less storage space for you and your customer.
Flat dry good packaging bags are also easier to store away in your pantry. With the thin-style packaging, these pouches make the perfect storage for dry beans, pasta, or rice.
Since these pouches typically hold one serving, they are cost-effective for the business and easy for the customer. The lay-flat pouches make it easy to dump out the contents without using a measuring scoop or spoon. Plus, you can easily store and transport your dry goods in mass quantities.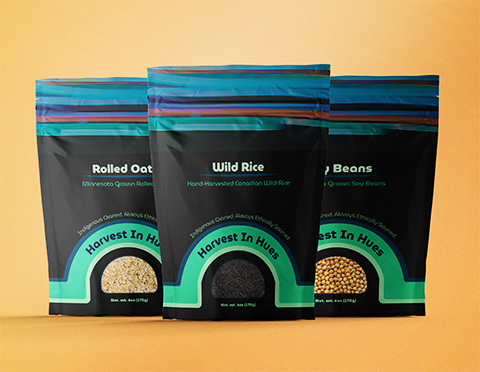 RESEALABLE DRY GOOD PACKAGES
Our stand-up and lay-flat pouches can accommodate a resealable zipper. Dry goods need to be sealed with little to no space for air or moisture. If they are, they can be subjected to potentially harmful contaminants or be ruined entirely. Custom resealable dry good packaging is a great way to protect large portions of your product.
Ordering your pouches with the zipper can entice your clients to choose your product or opt for a larger size if they know they can reseal the package. Adding a zipper means that your customers don't have to use it all at once. It extends the shelf life of your product by locking in freshness longer, while allowing for easier transport and storage of additional servings. Resealable dry good packaging is necessary, and The Packaging Lab offers it with both pouch options for your custom-made dry good bags.
ROLL STOCK FILM FOR DRY GOODS
The Packaging Lab also offers roll stock film, which allows for a personal touch to your product. Since dry foods are popular and commonly sold by a multitude of brands, using branded roll stock film can set you apart from the rest.
With a properly made outer roll stock film that showcases your product, you can overtake the competitor brands and become one of the leaders. Roll stock film, a cheaper option, gives you the means to capture customers' attention with your custom dry goods bags logo.
CUSTOM DRY GOOD PACKAGING DESIGN
At The Packaging Lab, we know that presentation is a massive part of selling a product. That's why customization options for your pouches or film is a massive part of what we do.
You are given the option to upload a previously made design for your printed dry good bags, or you can work with our team where we'll create something beautiful to represent your dry good product.
Design For Me is as simple as answering questions, scheduling a consultation, and choosing between the options we provide to you. If you do not like any choice, you can start over until you find the appropriate and desired packaging for your dry good bags.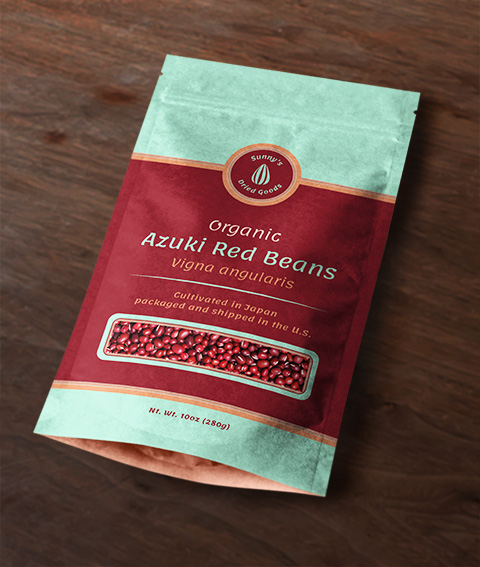 FREE DRY GOOD PACKAGING AND POUCH SAMPLE PACK
Creating dry-good bag packaging that is reliable and keeps your dry goods safe and fresh is made easy with The Packaging Lab and all of the options and styles we provide.
Offering stand-up pouches, lay-flat pouches, and roll stock film, we offer you multiple options that range in convenience for your product with your budget in mind. With the options between a gloss or matte finish, a white, clear, or metalized film, and other stylistic choices, The Packaging Lab lets you choose what will represent your product the best.
Your very first custom resealable dry good packaging can be a free sample, one we deeply recommend. We want your product to shine and succeed, and with our free sample pack, you can be confident in your decision to work with us.