CUSTOM FROZEN FOOD PACKAGING
The Packaging Lab offers everything you need for custom frozen food packaging or roll stock film. The food-safe containers come in different styles, such as stand-up pouches, lay-flat pouches, and resealable frozen food packaging bags. You can even rebrand existing frozen food bag packaging with custom roll stock film designed to convey your business identity.
If you're looking for frozen food packaging bags you can customize with your logo, brand colors, and eye-catching graphics, The Packaging Lab can help with your custom frozen food packaging needs. Our design team can take your ideas and inspiration and turn them into reality.
Customize the packaging for frozen foods substrate to make your graphics shine and watch your product fly off the shelves.
FROZEN FOOD POUCH PACKAGING
Businesses looking for custom frozen food packaging want to have plenty of options. There are two different types of frozen food pouch packaging you can customize for your business. You can even choose different custom frozen food bags for each product you offer.
The pouch styles impact how your product looks on the shelf, whether it's a stand-up or lay-flat design. But both of these options can have holes punched for hanging displays.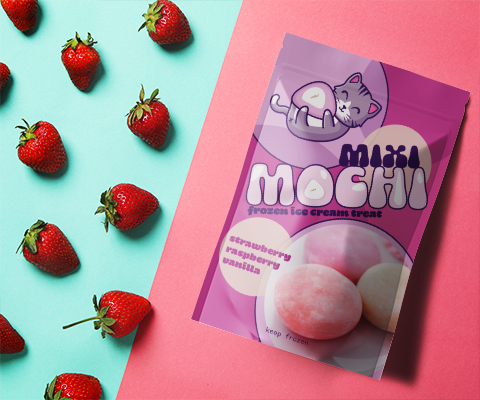 STAND-UP POUCHES
Stand-up pouches are the ideal packaging for frozen foods. The gusset at the bottom of the bag allows for more food to comfortably fit inside without toppling. Once the package is full, it will stand up independently, sure to catch eyes on the grocery store shelves.
You can further customize your stand-up custom frozen food bags with your logo or a specific design and choose between options, such as:
Gloss or matte finishes
White, clear, or metalized substrates
Hang holes
Resealable zippers
Order as many or as few stand-up pouches as you need with as little as a 24-hour turnaround time. We offer a wide range of sizes for frozen food pouch packaging to fit your needs. Stand-up pouches range from 3.25" by 4.75" by 2" to 12" by 12.5" by 3.5".
LAY-FLAT POUCHES
Lay-flat pouches are a flexible frozen food pouch packaging option for single-serve meals. Though you can insert a zipper for a resealable bag, the compact size makes it best for smaller servings within a larger package. Since there's no gusset, the lay-flat pouch is the solution when you need to pack a few items, or flat items, in one bag.
Choose between a gloss or matte finish to make your packaging for frozen foods demand attention. Your business graphics print on either white, transparent, or metalized food-safe plastic. While this pouch won't stand independently, you can punch hang tags to make these ideal for displays.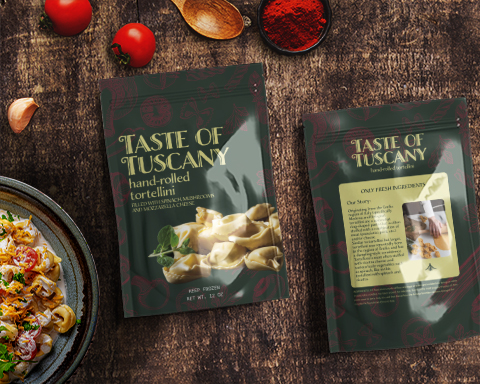 RESEALABLE FROZEN FOOD PACKAGES
Custom resealable frozen food packaging is one of the most attractive options for our clients and their customers alike. You can extend frozen food storage life with resealable custom packaging options that give customers flexibility and freedom with your product.
The Packaging Lab's seal is strong enough to prevent freezer burn. Add resealable zippers to stand-up pouches and lay-flat pouches of any size. The designs already have tear notches, so consumers can easily open the frozen food bag packaging. The resealable zipper is just below the tear notches so they can close up the bag for storage.
ROLL STOCK FILM FOR FROZEN FOOD
If you already have frozen food pouch packaging that reflects your old brand identity, there's no need to throw anything out. Save time and money by designing roll stock film with The Packaging Lab.
The roll film substrate is slightly different from the pouch options. You can choose:
Clear film in thin, medium, and thick gauges
White film in medium and thick gauges
Metalized film in medium gauge
Ordering a flat frozen food packaging roll gives you the opportunity to revitalize your packaging for frozen foods without having to redo the entire line. The film can fit any size pouch to cover existing designs. If you have plain packaging, the film will add some color.
CUSTOM FROZEN FOOD PACKAGING DESIGN
If you want custom packaging for frozen foods but don't have a designer on-hand, our team can help. Design For Me is a way for businesses to get custom frozen food bags with a logo, brand identity, and other elements needed to sell your products while creating a brand identity.
Fill out a questionnaire about your brand identity, colors, ideas, and any inspiration you have from competition. You can even include images you'd like to use in some way. An in-house designer will schedule a 30-minute consultation with you before drafting three design concepts, giving you options from which to choose. Once you select your design, we'll start production, so you can have your frozen food pouch packaging ready as soon as possible.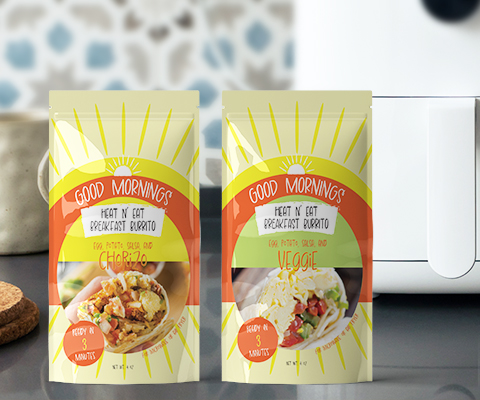 FREE FROZEN FOOD PACKAGING AND POUCH SAMPLE PACK
The Packaging Lab has a lot to offer in terms of custom-made frozen food bags. If you like the options, but aren't sure what to choose, order a free sample pack. We'll send a little bit of everything, including custom resealable frozen food packaging in all our sizes and film materials. These are print overruns from actual customers, so you'll get to see the real finalized product in action while testing which size and style fits your product best.