CUSTOM GRANOLA PACKAGING AND POUCHES
The Packaging Lab is a professional granola packaging company that provides custom resealable granola packaging and pouches. Our high-quality, custom stand-up, custom lay-flat pouches, and roll stock film are perfect for manufacturers looking to impress customers with unique, beautifully designed packaging for granola. Ready to get started on your custom made granola bags? Contact The Packaging Lab today.
POUCH PACKAGING FOR GRANOLA
At The Packaging Lab, we provide flexible, custom made granola bags suitable for various products. Our resealable stand-up and lay-flat packaging options cover products both small and large. Whether you're looking for packaging that uses space efficiently or stands out from the competition, we have the right option for you.
No matter what packaging you choose, you can depend on The Packaging Lab's in-house graphic designers to create something beautiful. Plus, we have no minimums or maximums. You're free to order as many pouches as you need, with the option to add special features like a zipper or hang hole to your custom resealable granola packaging.
STAND-UP POUCHES FOR GRANOLA
Our stand-up pouches are custom-printed and include an added gusset to allow your granola bag packaging to stand up on its own. It's perfect for holding larger, bulkier items, or if you want to sell larger quantities of your product. We offer matte and gloss finishes in three different materials:
You can order as many of our eye-catching stand-up pouches as you need at a time. They're also custom-designed to ensure that your products attract customer attention from their spot on a shelf. If you choose, your custom-designed granola packaging will include a hang hole. This will allow you to choose between having your product displayed at a retail store, hanging on a wall, or standing on a shelf.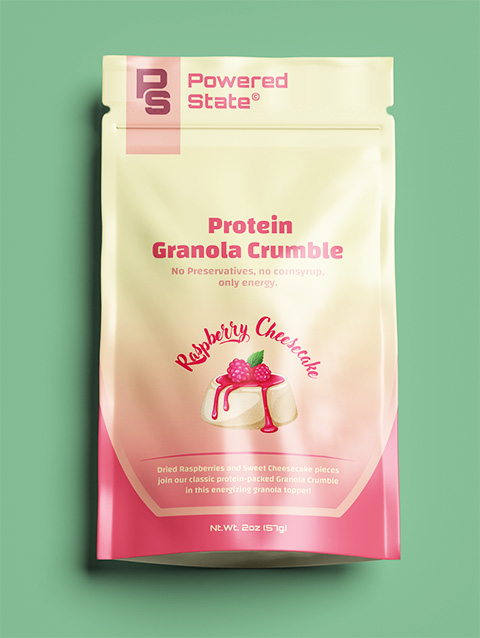 LAY-FLAT GRANOLA POUCHES
Our flexible lay-flat granola packaging bags are perfect if you want to save on material and space. Rather than standing up, these packages lay down flat on the shelf, or if you choose to include a hang hole, hang on the wall in retail stores. They are a lighter-weight option when compared to the stand-up packaging.
With both a matte and gloss finish available, as well as our original granola pouch packaging options (white, metalized, and clear) - you can tailor both your order and its quantity to your exact needs.
Customers love our lay-flat custom granola bags for their single-serve application. They are space-efficient and easy to store. Despite their smaller size, these beautifully-designed pouches are sure to memorably impact customers.
All buyers will appreciate our high-quality packaging that's always resealable with the added zipper feature. Whether you choose stand-up or lay-flat packaging, our professionally-designed granola pouch packaging improves your product's shelf life and keeps it tasting amazing for longer.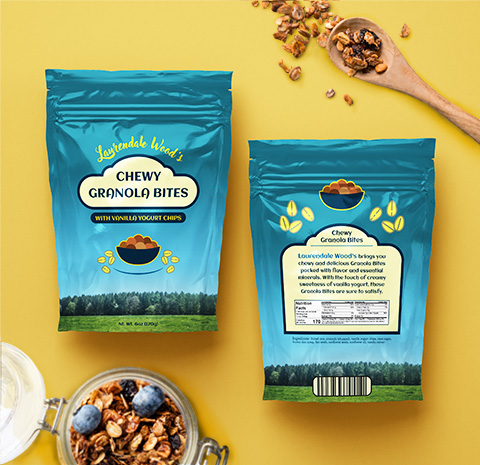 RESEALABLE GRANOLA PACKAGES
Not only will The Packaging Lab design unique, high-quality packaging for your product, but we also offer a resealable zipper option. You can choose to have a zipper inserted into your granola pouch packaging at checkout, allowing customers to open your granola and then safely seal it for later. Custom resealable granola packaging keeps your product as fresh as possible, which customers love.
ROLL STOCK FILM FOR GRANOLA
The Packaging Lab offers stand-up and lay-flat packaging and roll stock film for your granola bags. If you already have your product packaged but want to add a unique design to the front or back, the roll stock film is right for you. There is no minimum to how much roll stock film you can order. You'll have the option to choose as many or as few as you need at checkout.
We design our roll stock film for granola with different materials, from thick gauge to medium and thin, allowing you a variety of options. We also offer matte and gloss finishes to ensure that your roll stock film comes out exactly how you want it. Looking for a specific unwind direction? We have options for that too. Choose from top, bottom, right, or left edge first orientations.
CUSTOM GRANOLA PACKAGING DESIGN
The Packaging Lab is proud of our professional graphic design team, who will work with you to figure out the perfect look for your printed granola bags or roll stock film. We know that custom granola packaging with a logo can be complicated and expensive.
Additionally, choosing pre-designed labels that don't represent your brand is often unsatisfactory. At The Packaging Lab, we offer simple, inexpensive graphic design services to fulfill your unique vision.
We'll ask you to select our custom design option and pay a small, one-time fee when purchasing your packaging. We'll be in touch to talk about options for printed custom granola bags with logo within one business day. You get to fill out a questionnaire that will give us an idea of what you're looking for.
You'll also have the option to upload a premade design or any ideas you have. Our graphic design team will go over your options during a 30-minute phone consultation to understand your printed granola bags vision.
After our consultation, you'll receive three unique designs based on what you told us you're looking for. After a round of feedback, we'll finalize your approved design and add it to your pouch order.
The Packaging Lab's graphic design team will do everything possible to see your vision through and wow your customers when they see your product on the shelves or hanging in a retail store.
FREE GRANOLA PACKAGING AND POUCH SAMPLE PACK
At The Packaging Lab, we know that finding the perfect granola packaging bags and pouches is challenging. But, we're so sure that you'll love our product, we're offering a free sample pack to show off our product and services.
Our sample packs are printed granola bags overruns from real customers that will help you understand the quality of our designs and the dependable materials we use. Our free granola bag packaging samples should also help you get an idea of what size product you need and whether you'll choose a stand-up or lay-flat pouch for your custom granola bags.