CUSTOM GUMMY PACKAGING AND POUCHES
The Packaging Lab can design custom gummy bags with logos for your business for a variety of stand-up pouches, lay-flat pouches, and other custom-made gummy bags. We offer custom resealable gummy packaging, vital in the industry for more than one serving. And we have a no minimum order policy.
GUMMY POUCH PACKAGING
The Packaging Lab has flexible gummy pouch packaging to meet your needs and those of your customers. Some universal packaging for gummies requirements throughout the country include:
Tamper-evident gummy packaging bags
Child-resistant custom gummy packaging
More than one serving package must be sold in custom resealable gummy packaging
Printed gummy bags with the amount of THC in the product
Gummy bag packaging displaying the net volume of product
All custom gummy packaging must be opaque
You can choose between our stand-up or lay-flat custom gummy packaging options, or you can utilize both. Each bag style offers airtight gummy bag packaging, keeping your products fresh while protecting them from outside moisture and contaminants.
Our gummy packaging bags are available in a variety of standard sizes with custom sizing available. When designed by us, you can count on your custom gummy bags with a logo to express your business and products as you like. Lightweight, adaptable, and compact, our lay-flat and stand-up pouches meet the needs of today's market. And with your specific customized printed gummy bags, you will have that visual advantage over your competitors.
STAND-UP POUCHES
Stand-up pouches are ideal for gummy bag packaging. Designed with an added gusset on the bottom, as the name implies, stand-up pouches stand tall on their own. You can purchase our stand-up gummy packaging bags in a variety of sizes to fit your variety of orders. They are available from a smaller 3.25" wide x 4.75" high with a 2" gusset to a much larger 12" wide x 12.5" high with a 3.5" gusset. You can order stand-up custom-made gummy bags in different sizes as you need them. Need custom resealable gummy packaging for multiple servings? Just ask.
Strong and durable, The Packaging Lab's packaging materials are made of high barrier films protecting your products from moisture.
The style of the stand-up pouch provides a lot of space on its packaging to share your message on your custom gummy bags, representing your business and philosophy. Look forward to more information about our printed gummy bags when we discuss design.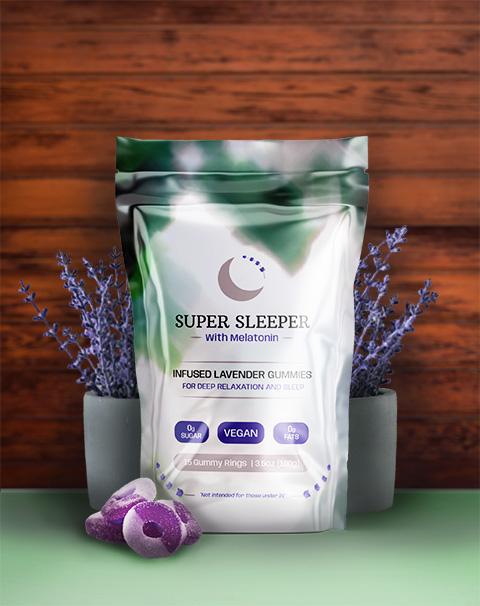 LAY-FLAT POUCHES
Our lay-flat packaging for gummies is a great option for storing products in the shop, or for the customer when they take their selection home. Made with the same integrity in materials as our stand-up pouches, our flat pouches are available in sizing from 3.25" wide x 4.5" high to 7" wide x 12" high.
And like the stand-up version, our lay-flat bags are available in custom resealable gummy packaging. We provide a quick turnaround for your gummy bag packaging needs with shipping in as little as 24 hours with no order minimums.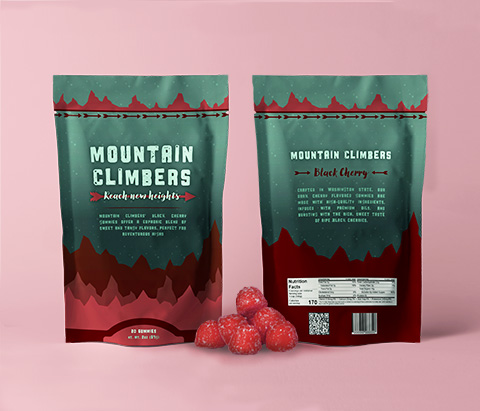 RESEALABLE GUMMY PACKAGES
Our custom resealable gummy packaging is the perfect packaging for gummies. We understand the importance of keeping gummy products fresh within the bag while eliminating contamination. Our zipper packaging can be opened and sealed repeatedly to meet the convenience and needs of your customers.
ROLL STOCK FILM FOR GUMMIES
If your shop has a need for roll stock film for gummies, The Packaging Lab offers these as well. Like our pouches, you can get roll stock film custom gummy bags to use while clients shop your store. Choose your preference of unwind orientation.
CUSTOM GUMMY PACKAGING DESIGN
The fun part of developing gummy bag packaging is the design! Our team is all about helping you design gummy packaging bags your customers will not forget. We will design eye-catching custom gummy bags for your business and we can create different packaging for some of your top gummy choices.
Check out our Design For Me packaging design method. Here is how it works:
Choose your most used packaging type and size for your sample custom made gummy bags
A one-time design fee will be charged
You will fill out a questionnaire providing the types of bags and sizes you will need along with the information you wish to convey on your gummy pouch packaging
Share your files of any design assets you already have and wish to include
Once our designer reviews your custom-made gummy bag requests, they will schedule a 30-minute phone consultation with you to review your requests, and products, and discuss your custom gummy packaging vision.
Three conceptual designs of your custom-made gummy bags will be sent to you for review. At that time, you can further discuss the designs and request any changes. Upon your approval, you will receive a print-ready file of custom gummy bags with a logo with your first packaging for gummies order.
FREE GUMMY PACKAGING AND POUCH SAMPLE PACK
Why not let us send you a sample pack of gummy pouch packaging? It is free and you are under no obligation.
Deciding between so many choices of printed gummy bags can be confusing. We are here to make it easier. You will not only preview a variety of sizes but also get a feel for how the right choice in custom gummy packaging can make a difference.
We have been in the packaging industry for more than 40 years and we know how creating the right design can pay off for your business. Custom packaging for gummies, or any other type of product, is not simple. Let us help you design your printed gummy bags. We look forward to collaborating with you.