CUSTOM HERB PACKAGING AND POUCHES
Spice things up with custom herb packaging and pouches from The Packaging Lab. Discover why countless clients choose our team for quick turnaround, quality packaging, and unmatched customer service. Use one design for all your herbs or submit separate designs for each type you sell.
Look to us for your custom herb packaging and herb pouch packaging needs. We offer our packaging in a wide range of sizes and styles.
POUCH PACKAGING FOR HERBS
Custom pouch packaging for herbs keeps products safe from exposure to oxygen, moisture, and sunlight, lengthening shelf life and maintaining freshness. Custom packaging for herbs can also be a great solution for selling smaller quantities.
Let us know what you want, and we can customize it for you. We can make custom herb bags with logos or add other designs. Why not get printed herb bags with the names of the herbs you sell to eliminate the need for hand-writing the names later? We can turn around your order in 1-5 business days, with no minimum quantity required. So, feel free to order as many herb bag packaging designs as you want to match your herb inventory.
STAND-UP POUCHES FOR HERBS
The Packaging Lab's stand-up pouches come in three different materials: clear, white, or metalized. Customize your packaging for herbs with various material finishes, zippers, or hang-holes. Stand-up herb pouch packaging makes displaying herbs simple. Plus, their easy storability significantly reduces storage costs.
Choose stand-up packaging for larger quantities of herbs or for herbs that are whole rather than powdered. Being able to stand your package up while you're filling it eliminates the possibility of making a mess and wasting your product. Let us know how we can customize your stand-up packaging and what type you want, and we'll have them out the door to you in no time.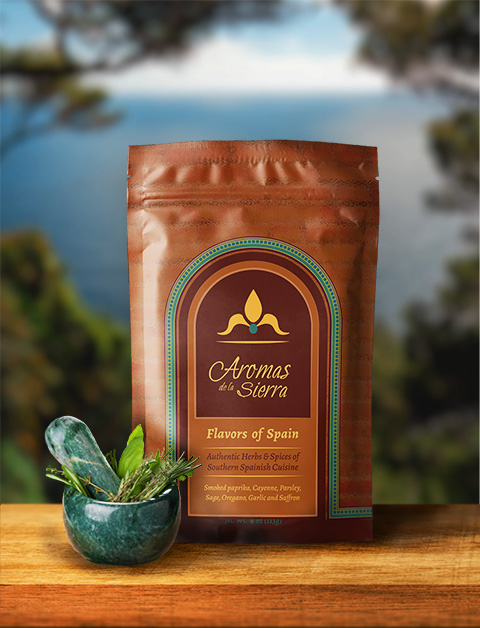 LAY-FLAT HERB POUCHES
Lay-flat pouches are an affordable and customizable packaging solution for herbs. With various materials and design choices to choose from, you'll have the freedom and flexibility to package your herbs to suit your specific needs. Choose lay-flat herb pouch packaging from The Packaging Lab for smaller herb amounts. Our lay-flat pouches don't have a gusset at the bottom, making them ideal for smaller servings.
Decide whether you'd prefer a lay-flat herb pouch packaging that is clear, white, or metalized. You can choose a matte or glossy finish, zipper or no zipper, and you can add a hole at the top so the pouches can hang at stores. They also come in a variety of widths and lengths. Order your customized lay-flat herb packages today, and we can produce them for you in anywhere from 1 to 5 days.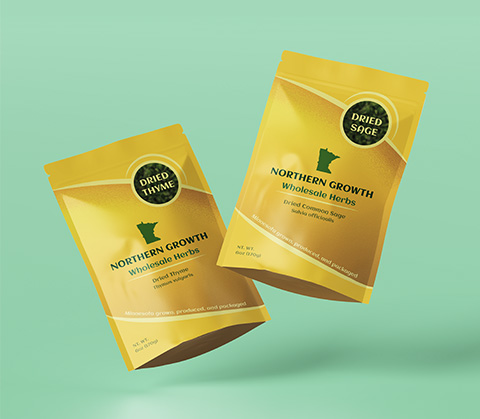 RESEALABLE PACKAGES FOR HERBS
We also provide custom resealable herb packaging. Both of our customizable pouches come with an optional zipper. The zipper can help to further extend the shelf life of the herbs by keeping out excess air and moisture. Depending on the size of the pouches you order, the zipper would be located 1.25" to 1.5" below the top of the pouch. Whether you add zippers to your pouches or not, you'll need to heat seal them once you've put the product inside.
Offer your customers the option to purchase your herbs in reusable, resealable packaging. Resealable herb packaging bags keep opened herbs fresher longer and make your customers happier with their product.
ROLL STOCK FILM FOR HERBS
If you have a form, fill, and seal machine (FFS), you may be interested in our roll stock film option for packaging your herbs. Our roll stock film is durable and made of high-quality materials, but is a bit more budget-friendly. We can fulfill orders in as little as 5 days.
Choose either matte or glossy roll stock film from The Packaging Lab depending on your personal preference and budget. Adding a custom design reminds customers where they purchased their herbs so that they know where to purchase more later.
CUSTOM HERB PACKAGING DESIGN
Whether you have a design in mind or you're coming in with a clean slate, The Packaging Lab is here to help you create the custom herb bags of your dreams.
If you've already planned out your design, like a custom herb bag with your logo, you can simply upload the file to the order page. But if you need some extra help, we have a highly qualified team of professional designers ready to help. Our Design For Me team will help bring your custom-made herb bags to life.
FREE HERB PACKAGING AND POUCH SAMPLE PACK
We're not asking you to take our word for it, we believe our custom herb packaging options speak for themselves. Order our free sample pack to get a tangible feel for what we offer and what will work best for your business.
Use production-quality pouches from print overruns of our customers to give you an idea for your custom herb packaging designs. Our sample packet can also give you an idea of what will work best for your herbs to inspire your order with us.