CUSTOM PASTA AND NOODLE PACKAGING AND POUCHES
You can make the best pasta in the world and still fall short on sales because your packaging misses the mark. At The Packaging Lab, we understand the importance of quality, attractive, packaging for pastas. We also know that custom pasta packaging needs to be simple and efficient for you and your customers.
With over 40 years of experience in the industry, we know what it takes to create the ideal packaging for pastas. It's about more than having custom pasta bags with a logo, it's about pasta packaging bags that appeal to everyone from home chefs to high-profile restaurants.
We offer custom pasta packaging that matches your brand and allows customers to recognize your product at a glance. Plus, our pasta pouch packaging is easy to work with and ideal for storage, like our custom resealable pasta packaging and flat pasta packaging.
PASTA POUCH PACKAGING
Why settle for just any pasta packaging bags when you can catch your customer's eye with a stunning design? Our custom pasta packaging is flexible, lightweight, and practical for pasta and noodles.
We offer three base materials that are safe and secure packaging for pastas. Choose from white, clear, or metalized pasta bag packaging, and know that your image will work with all three. Further, you can choose a matte or gloss finish for your custom pasta bags with a logo.
Do you need custom-made pasta bags for a promotion? Maybe you want to do a test product and need special pasta pouch packaging to try different types. Since we can create small quantities of pasta packaging bags, you can order only what you need.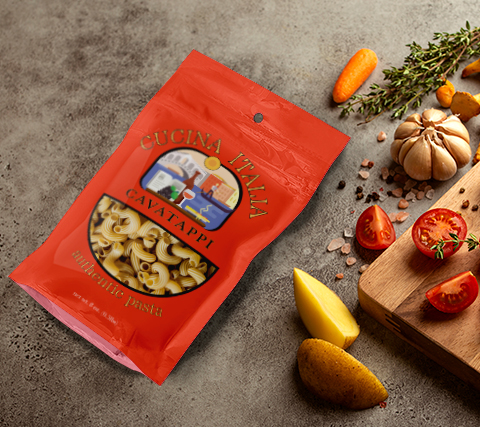 STAND-UP POUCHES FOR PASTA
Stand out on any shelf or display with our stand-up pouches for pasta. Our custom pasta bags come in several sizes, ranging from 3.25 inches by 4.75 inches by 2 inches up to 12 inches by 12.5 inches by 3.5 inches.
The unique design allows these custom-made pasta bags to stand up on horizontal surfaces. You can even create a tiered display with this pasta pouch packaging to showcase a range of flavors or shapes.
Ordering your custom pasta packaging is quick and easy. Select your material, finish, quantity, and how soon you need the packaging for pastas. Then, upload your design file and we'll take care of the rest. You can even add a hang hole to your pasta bag packaging to create more versatile displays.
Consider adding a zipper to the custom pasta bags for extended storage. Offering resealable pasta packaging could be a deal-breaker for customers trying to choose between your brand and another one. Being able to save some for later is always a plus, even with smaller quantities.
Order as many custom pasta bags as you need with no minimum quantity required to place your order. We can even finish your pasta pouch packaging in as little as one business day in case you're in a rush.
LAY-FLAT POUCHES FOR PASTA
Our lay-flat pasta packaging offers a slightly different approach with a lower-profile design to meet your product's needs. You still get the same materials and finish choices with this packaging for pastas to create a custom design.
This flat pasta packaging still comes with the option for a hang hole or zipper. Plus, every pasta pouch packaging features a tear notch for easy opening. We offer flat pasta pouch packaging in various sizes ranging from 3.25 inches by 4.5 inches up to 7 inches by 12 inches.
Since it's custom pasta packaging made just for you, feel free to order the quantity you need with no minimum requirement on this style either. We can have flat pasta packaging ready to go within one business day so you aren't missing out on sales.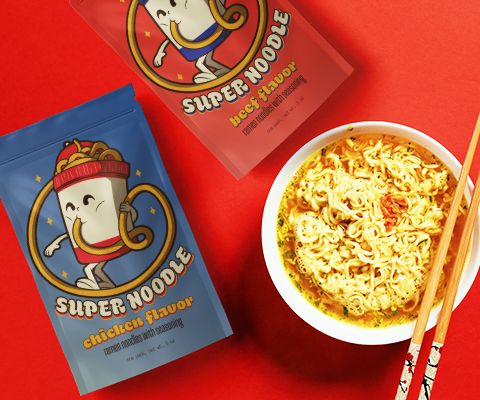 RESEALABLE PASTA PACKAGES
Not all packaging for pastas includes a zipper feature, meaning you have to use it all at once or find proper storage. When customers toss the packaging for pastas, you lose out.
With our custom resealable pasta packaging, your customers can make a little now and put the rest in the pantry. Every time they open the pantry, they see your brand with its convenient, efficient pasta pouch packaging. It reinforces your brand name with every glance.
ROLL STOCK FILM FOR PASTA
Maybe you don't need pasta packaging bags but still need to customize your product. You can turn any packaging for pastas into a customized product with our roll stock film.
Choose the repeat length and roll width that works with your product. Select the material, finish, and image orientation. Then, upload the desired image file and we'll create the film you need to create custom pasta packaging.
Like our pasta pouch packaging, you don't have to order a minimum quantity and you can still get the film in as little as one business day.
CUSTOM PASTA PACKAGING DESIGN
Are you struggling with your custom pasta packaging design? We understand how difficult it can be to create the perfect packaging for pastas, so let our team help you figure things out.
From whether or not to choose a zipper for custom resealable pasta packaging to choosing stand-up or flat packaging for your pastas, we have you covered. Even if you want to create custom pasta bags with logos by using roll stock film, we can create the ideal design for your brand.
Don't let design difficulties stand between you and the perfect pasta pouch packaging! Reach out to our team and let us help.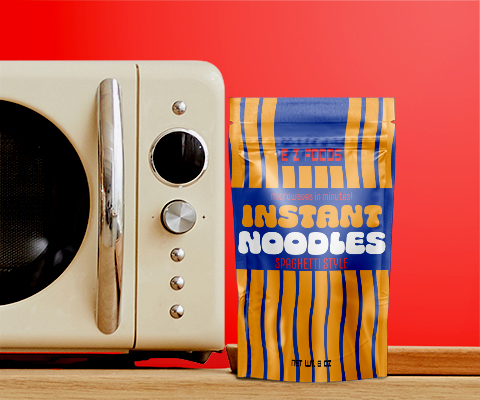 FREE PASTA PACKAGING AND POUCH SAMPLE PACK
Custom pasta packaging can make or break your product, so it's not something to take lightly. If you're not sure how different combinations of pasta pouch packaging might look and feel, reach out to us for a sample pack.
We can send you custom pasta bags with logos that we've done for other customers. You can see our packaging for pastas in different sizes, finishes, and materials to determine which combination works best for you and your product.