CUSTOM POPCORN PACKAGING AND POUCHES
Businesses looking for custom popcorn packaging will find everything they need at The Packaging Lab. Our food-safe popcorn packaging bags come in multiple styles and sizes, so you can find what you need for your products.
You can choose from stand-up or lay-flat pouches. All our packaging options include the opportunity to punch hang holes so you can display your popcorn in different ways. Additionally, you can insert a resealable zipper so your popcorn stays fresh for several servings.
Packaging for popcorn doesn't have to be boring. We have several unique materials, including white, clear, and metalized plastics. If you need help with the design aspect, our team can create concepts you can choose. Partnering with The Packaging Lab means your popcorn products will catch customers' eyes thanks to high-quality pouch packaging.
POPCORN POUCH PACKAGING
The Packaging Lab offers two different styles of custom popcorn pouch packaging. Stand-up pouches have bottom gussets that expand to accommodate more popcorn. When the bag is full, the bottom is sturdy enough to keep the package upright and help it stand out (no pun intended!) on grocery store shelves. Lay-flat pouches are flatter than stand-up bags, making them ideal for single servings. You can choose different sizes of our pouches to offer your popcorn flavors in multiple serving varieties. Customers will love being able to select a small sample of a new flavor while still buying a big bag of their favorite.
When you order custom made popcorn bags, you can choose additional features like a resealable zipper and hang holes. Both styles work with all three substrates and both finish types, so you can design them to suit your brand. The Packaging Lab offers plenty of options to make your popcorn business stand out.
STAND-UP POUCHES
The stand-up pouch is one of the best options in custom popcorn packaging. The bag comes in many different sizes, with 3.25" by 4.75" by 2" as the smallest. Your largest option for packaging popcorn in a stand-up pouch is 12" by 12.5" by 3.5", so your customers can enjoy a large serving of popcorn in one bag.
You can add resealable zippers to any size of the stand-up pouch. The zipper ensures that the popcorn stays fresh whether your customer is opening the bag for the second time or the tenth. Your popcorn will still taste delicious, thanks to the sturdy resealable zipper. The zipper is right below convenient tear notches, making it easier to open.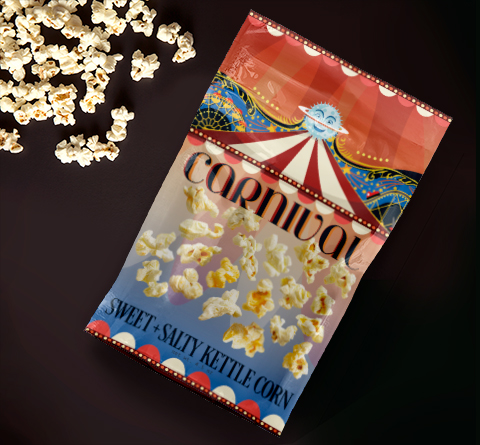 LAY-FLAT POUCHES
Lay-flat pouches don't have the bottom gusset that stand-up bags do, so they're an excellent option for individual servings of popcorn. You can make small lay-flat pouches with a minimum size of 3.25" by 4.5". The largest package is 7" by 12" for larger serving sizes. Lay-flat popcorn pouch packaging is also easier to store and transport, saving on inventory costs.
These popcorn pouch packages come with several customizable options, such as:
White, transparent, or metalized food-safe plastic substrate
Gloss or matte finishes
Resealable zipper below the tear notches
Hang hole for different display options
There's no minimum or maximum to your order. Depending on the size of your order, we offer as little as one-day turnaround.
RESEALABLE POPCORN PACKAGES
Keep your product fresh with resealable popcorn packaging. When buying a bag of popcorn of any size, you can seal it to savor over several sittings. Give your customers serving variety with our wide selection of popcorn packaging with zipper features that extend shelf-life and allow for a delicious snack on-the-go.
ROLL STOCK FILM FOR POPCORN
Even if you already have printed popcorn bags, you can take advantage of what The Packaging Lab has to offer. Roll stock film lets you print designs that can cover existing packaging. You have complete control over the roll's size, depending on the dimensions of your graphic, plus registration and bleed marks.
With flat popcorn bag packaging, you can use roll stock film to wrap the product and make your brand identity stand out.
CUSTOM POPCORN PACKAGING DESIGN
Designing custom-made popcorn bags doesn't have to be difficult, even if you don't have any design skills yourself. The Packaging Lab's Design For Me option connects you with a designer who can make your vision come to life.
If you have an existing brand identity, we can work with you to incorporate those elements while revitalizing your company's overall aesthetic. If you're just starting out and don't know how you want your packages to look, we can help! Fill out a questionnaire and conduct a 30-minute phone consultation with our designer. You'll get three concepts to choose from. At that point, you can create your pouch order. The design process makes it simple to order custom popcorn bags with a logo.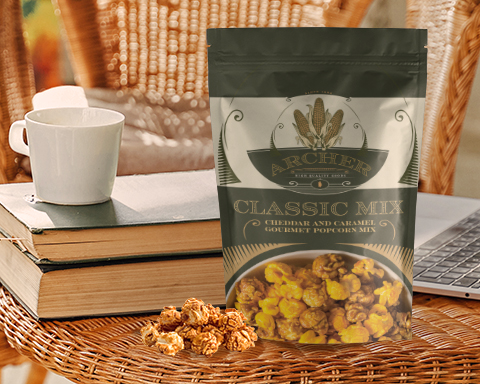 FREE POPCORN PACKAGING AND POUCH SAMPLE PACK
Before you commit to popcorn bag packaging, order a free sample pack to see what we can do. You'll get an assortment of print overruns from existing customers. This option lets you test the durability of each pouch style, and you can see how your popcorn will fit inside different resealable popcorn packaging bags.
Designing custom popcorn packaging doesn't have to be difficult. Contact us today for more information about The Packaging Lab's samples and services.