CUSTOM POWDER PACKAGING AND POUCHES
Add an eye-catching design to sturdy, custom powder packaging from The Packaging Lab with our professional powder pouch packaging and our resealable powder packaging. See your ideas come to life in full-color, durable packaging for powder products in our powder pouch packaging. Innovation in the development of powdered consumables means your product and its packaging is competing in a challenging market.
Looking for new packaging for powders? At The Packaging Lab, we give marketing power to our customers with custom made bags that are practical and functional. Build a brand and get custom powder bags with your logo or strengthen your existing brand with help from our team of design experts to improve your powder pouch packaging. We offer our experience and high-quality powder packaging so you can gain a marketing advantage.

It's vital that premium powdered items are securely sealed and impervious to moisture but easy for customers to open and reseal in your powder pouch packaging. Protect the shelf-life of powdered goods and make storage and stacking easy with our custom, resealable powder packaging. Contact our team today to get started on your custom powder packaging or pouch design with our powder pouch packaging.
POWDER POUCH PACKAGING
Give your energy drink mix a boost with a bright and cheerful custom made powder packaging bag. Provide information and health tips on unique printed powder bags for delicious smoothie powder or meal replacements. Entice customers with a dynamic custom logo that makes them want to wash their clothes in your specialized laundry detergent right on your powder pouch packaging.

Whatever the powdered product might be, The Packaging Lab offers powder packaging bags to protect consumable materials, prevent spoilage, and save money with our powder pouch packaging. Provide reliable, custom powder packaging for your customers' convenience. With different sizes of powder bag packaging to choose from, it is easy to provide large-sized pouches for repeat customers and sample-sized bags for new consumers.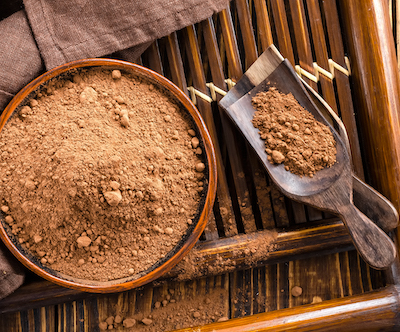 STAND-UP POUCHES
We offer wide, self-supporting custom stand-up pouches for large volumes of powder and multiple-serving portions for our custom powder packaging. With a gusseted bottom, a stand-up pouch is convenient, easy to carry, and reusable. On a shelf full of boxes, your new, unique printed powder pouches will get all the attention and increase sales.
Our customers have tremendous success with customized pouch packaging for their consumable stock like dry pantry staples, flour, cornstarch, and pancake mix. Powder bag packaging is compact and flexible enough to use with any commodity. Eliminate the box and bottle and stand out with stand-up pouches for your packaging for powders. If you want brand-focused powder packaging bags, we can create custom powder bags with your logo.
LAY FLAT POUCHES
If you need new packaging for powders in small amounts, consider lay flat pouches. For smaller quantities of powder, such as spices, teas, and samples, a custom printed lay flat pouch takes up less space. The lay flat or pillow pouch makes it convenient to store and package powdered goods. Choose from white, clear, or metalized materials in several smaller sizes in a flat format of our custom powder packaging.
Order custom made flat pouches that are ready to be filled and hung from the convenient hang hole. Offer single servings of your flavored sweetener, protein powder, or powdered electrolytes in an easy-to-display flat powder packaging bag. Great for handing out advertising packets at a conference or introducing a new herbal tea mix at your favorite farmer's market in our powder pouch packaging.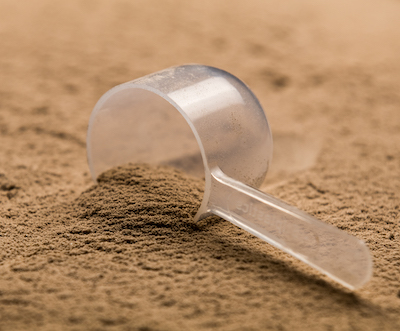 RESEALABLE POWDER PACKAGES
Do you need custom resealable powder packaging on your printed powder bags? All our custom powder bags come with a resealable zipper option making them the best choice for keeping powdered foods, cosmetics, and supplements fresh. Shoppers expect the convenience of having a resealable zipper when purchasing choice packaging for powders, so get the powder packaging bags they need.
Protect the aroma, taste, and texture of powdered formulations with easy-to-open and resealable packaging with our professional packaging for powders. Custom, resealable powder packaging reduces waste and shows that items are fresh and tamper-free. Consumers can even recycle them, adding another level of value to your packaging for powders. The Packaging Lab can get you custom resealable powder packaging for your brand.
ROLL STOCK FILM FOR POWDERS
For our customers who package their own powdered goods, custom printed roll stock film sets a superb product apart. If your firm contracts its packaging needs to a manufacturer or packager, roll stock film from The Packaging Lab provides superior results. We have the configuration to suit the powdered product and the form, fill, and seal machinery used.
Roll stock film is a favorite packaging choice for conservation-conscious brands who want to use genuine materials. Roll stock film is less bulky and rigid than pre-millennial packaging but robust enough to protect merchandise from the elements. Fans of roll stock swear it's the most flexible and fastest method of powder bag packaging.
Enjoy quick turn-around times on roll stock film orders so your bright customized packages of nutritional powders, spice mixes, or flavor packets can sell fast. Get the custom powder bags you need today with our various flat powder packaging options.
CUSTOM POWDER PACKAGING DESIGN
Design new logos or upgrade any current branding with inspiration from The Packaging Lab. The quality of item packaging must match the high quality of your ingredients. Our well-designed, custom made powder bags and roll stock film with a custom logo are professionally printed for shelf appeal.
Our design team is waiting to help assess design needs and review current branding. We'll provide a personalized and professional consultation with you about a vision for the future of your business. For a flat fee, get the customized powder packaging design that will catapult your products to the top of the market.
Be the most visible brand in the aisle with our design concepts, color-matching technology, and high-resolution printing process for our flat powder packaging and custom made powder bags.
We can produce all custom printed powder packaging in as little as one business day with no minimum purchase of our custom powder packaging required. With so much flexibility in the ordering process, go ahead and test marketing strategies with different and exciting new packaging. Present loyal customers with seasonal packaging or promotional gifts specially crafted to stand out from the crowd.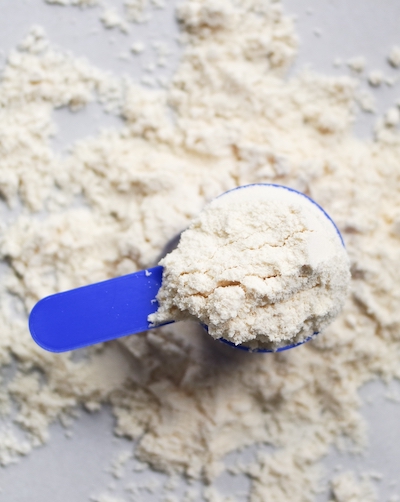 FREE POWDER PACKAGING AND POUCH SAMPLE PACK
We're so sure you'll love the finish of our custom graphics and impeccable quality of our packaging for powders that we offer a free sample pack. Hold an actual production pouch and feel the durability of our custom powder packaging. We'll send print overruns and actual full-color designs from satisfied customers who chose The Packaging Lab to highlight and boost their branding with our custom powder bags. From custom resealable powder packaging to flat powder packaging, you can get a sample of just what you need.
With examples of our standard sizes, package your own powdered formula and see which packaging options are right for your business. At the Packaging Lab, we work with you to get the packaging for powders you need. Do you want printed powder bags that stand? Custom made powder bags that lie flat? Or powder bag packaging that you can reseal?
We provide a guided path to successful powder packaging from creating a unique brand design to printing and shipping custom stand-up pouches, lay flat pouches, or roll stock films. This choice is one of the most critical business investments you'll make all year.

Boost sales, save money, and get professional, first-class packaging designed and shipped fast and easy. Keep consumers coming back for more with printed powder pouches and roll stock film from The Packaging Lab.