CUSTOM SNACK PACKAGING AND POUCHES
The best compliment to a delicious snack is durable, eye-catching custom snack packaging. At The Packaging Lab, we pride ourselves on offering highly customizable snack pouch packaging and roll stock film ideal for your manufacturing needs. Our stand-up, flat, and resealable packaging for snacks keep snacks fresh and easy to store in customers' cabinets and stocking rooms.
Our custom made snack bags are for more than just snacks! There are dozens of ways custom snack packaging benefits your business. Read on to learn more about our snack pouch packaging products and their perks.
SNACK POUCH PACKAGING
The Packaging Lab customizes and sells stand-up custom snack pouch packaging and lay-flat snack packaging. The stand-up variety supports larger, bulkier loads, and the flat snack packaging carries thinner or finer products. Furthermore, you can customize the material, finish, and size of the custom made snack bags and add things like hang holes and zippers.
Hang holes make your snacks easy to pull off the shelves, and zippers create resealable snack packaging for freshness. Let's examine each Package Lab product in detail to see why they're ideal packaging for snacks.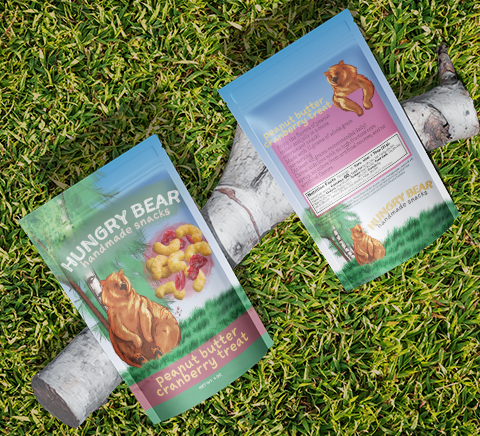 STAND-UP POUCHES
Our stand-up pouches are ideal for toting bulkier snack products like nuts, cocoa, dried cranberries, and other delicious items. You can order the custom snack bags as tall as one foot or as short as 3.25 inches, suiting virtually any need. With many materials and finishes, you can give your custom snack packaging the eye-catching appeal it deserves.
You can customize each pouch with zippers for resealability, hang holes for displaying, and custom imagery. Customers may even create printed snack bags with the quantity and production days on their orders, making The Packaging Lab one of the most efficient custom pouch makers available.
Clients are free to buy as little or as many snack packaging bags as they need—even just a single custom made snack bag.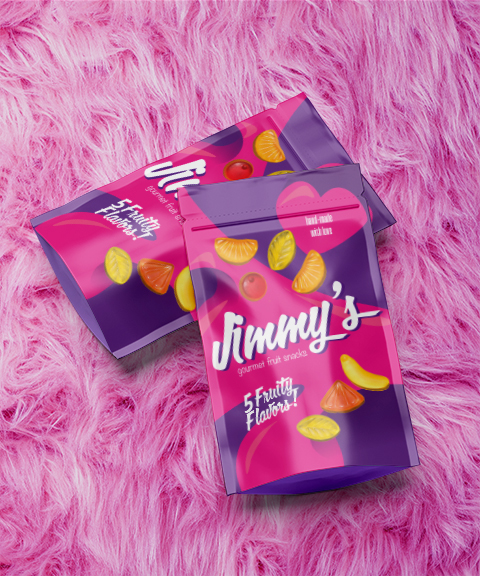 LAY-FLAT POUCHES
For smaller cargo, try our flat snack packaging. Gummies, powders, and other lightweight food items fit well in these foldable, storable bags. Like the stand-up pouches, the Packaging Lab's flat printed snack bags give customers their choice of material, finish, size, and additions like zippers and hang holes.
We offer customers complete order control over their custom resealable snack bags, and the flat-laying snack bag packaging is cheaper and easier to order in bulk. They also come with tear notches so your customers can enjoy them as soon as possible. Fit your company icon or imagery onto our custom snack bags with logos to make them stand out at the market.
RESEALABLE CUSTOM SNACK PACKAGES
Resealability is a critical feature for snack packaging bags. Resealable snack packaging is the best container for keeping foods fresh without the irritating bulk of other airtight options. Not only does resealable snack packaging keep items from spoiling, but it is also spill-proof. Your customers may keep their food at home or take them to the car or office with minimal cleaning risks by using our snack packaging bags.
Adding resealability to a package is incredibly easy for customers. Just toggle the "zipper" option during your order. Once you do, each custom resealable snack packaging will include an airtight zipper an inch or more from the top of the bag. It only costs a few cents to create a custom made snack bag and greatly impacts your product's practical uses.
ROLL STOCK FILM FOR SNACKS
Do you want to get the fantastic quality of The Packaging Lab's pouches at a reduced cost? If you have the machinery, you can order roll stock film instead. Then, you'll be able to produce custom snack bags from your company to your specifications, such as custom snack bags with logos.
Roll stock film is just as customizable as The Packaging Lab's other custom resealable snack packaging. Upload your company icon, emblem, or other pictures. We will print the film with any materials or finishes you request. Customers also decide the repeat length, roll width, and orientation. There's no easier way to obtain high-quality roll stock film for your snack packages!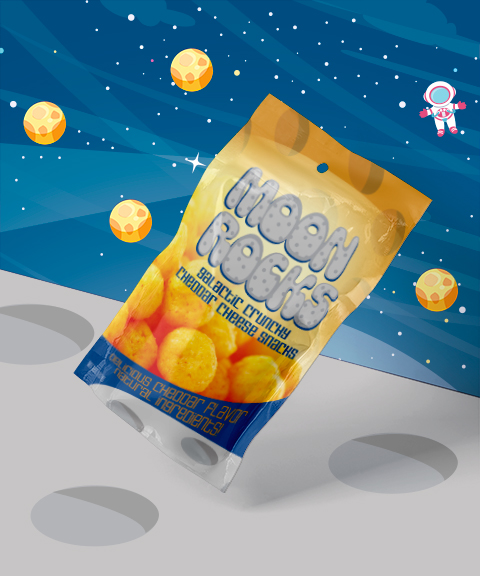 CUSTOM SNACK PACKAGING DESIGN
Custom snack bags with logos and icons are valuable to stand out, but can be overwhelming due to all the different packaging for snacks. That's why The Packaging Lab helps clients of all industries with design consultations. First, fill out a questionnaire, including the images and icons you want to incorporate in your snack bag packaging. That includes your nutrition facts, ingredients list, and every legal label your product needs.
After you send in those items, The Packaging Lab will contact you to schedule a half-hour consultation. During the meeting, we'll learn about your company vision and product before proposing three custom snack packaging concepts for you to choose between. After your selection, you will receive a print-ready file to use on the printed snack bags or stock film ordering process.
Did you know the Packaging Lab also offers design help? The right colors, icons, and labels for your snack bag packaging can have a big impact on sales.
FREE SNACK PACKAGING AND POUCH SAMPLE PACK
Test out each printed snack bag for yourself before you make a decision. We offer a sample variety pack at no cost.
Every finish, material, and size make an appearance in the lineup, allowing you to test our flat snack packaging, stand up packaging, resealable snack packaging, and others as much as you like.
The Packaging Lab sample pack is the best way to get an in-depth look at our snack packaging bags for free.