CUSTOM SPICE PACKAGING AND POUCHES
Whether you're looking for regular packaging for spices or custom spice packaging, The Packaging Lab has solutions for every need. We have two styles of spice pouch packaging that are popular in the spice packaging industry.
Their unique designs support different functions, which enable you to find the perfect spice packaging bags for your requirements. Additionally, our flexible packaging ensures you can get custom spice bags. If you're ready to work with The Packaging Lab for your spice packaging needs, contact our team of experts today.
POUCH PACKAGING FOR SPICES
The Packaging Lab offers two lines of flexible pouches, which lets you pick the best spice bag packaging for your needs. Our two styles are the stand-up pouch and the lay-flat pouch. The former features an extra gusset at the bottom.

The gusset enables the pouch bag to stand independently. In contrast, the lay-flat packaging presents a space-saving option, especially when you desire easy storage and fewer materials.

Besides, you can insert zippers into the two types of pouches. This move gives you custom resealable spice packaging. You can also get custom made spice bags. The bags have punch holes to help clutter-free hanging in retail stores.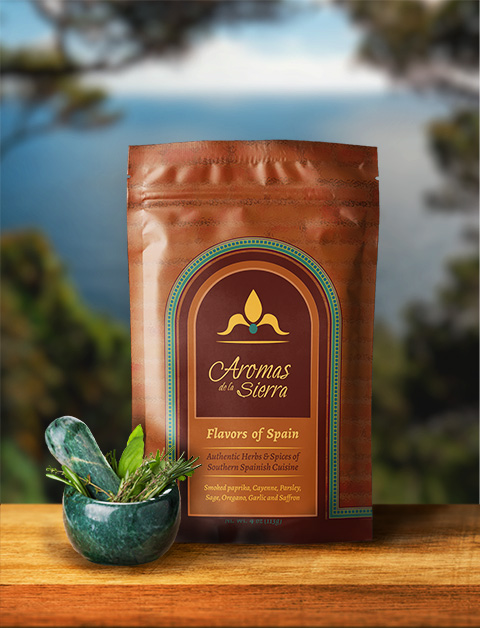 STAND-UP POUCHES FOR SPICES
The stand-up design lets these styles of spice packaging bags hold bulkier items or a larger volume. This ability to balance upright gives these pouches an eye-catching presence on a retail shelf. You can also transfer this unique sight to your kitchen cabinet. The shifting helps remove the cluttered appearance of your ingredients. Besides, we incorporate gloss and matte finishes on our custom spice bags for added style.

The stand-up spice bag packaging comes in various sizes to fit any product. Various measurements make them suitable for different manufacturer requirements. We include tear notches on every pouch that let you customize our printed spice bags. For instance, you can add a zipper to get custom resealable packaging or insert a hole for hanging.
LAY-FLAT SPICE POUCHES
You can use the convenient and simple design to store several spice products. The lay-flat custom spice bags are especially ideal for single-serve applications. These spice packaging bags come in matte and gloss finishes for added beauty, like stand-up pouches. You can also get printed spice bags that reflect your brand better.

Our custom made spice bags have a flexible design that lets you add a zipper or a hang hole. You can get resealable spice packaging by incorporating a zipper into your product. Moreover, we use different film materials to make our lay-flat spice bag packaging. For example, we offer white, transparent, and metalized film materials. The above makes it easier to design custom spice bags with logos.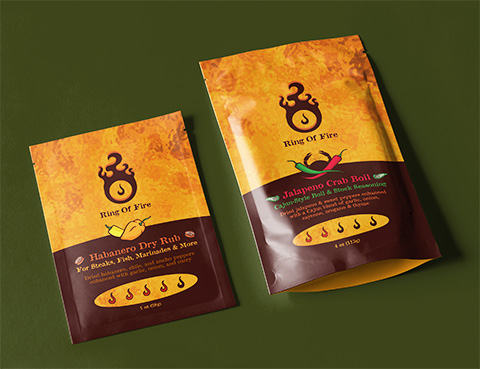 RESEALABLE PACKAGES FOR SPICE MANUFACTURERS
The Packaging Lab seeks to meet different spice manufacturer needs. It achieves this by offering resealable spice packaging—our stand-up and lay-flat spice bag packaging feature a flexible design to ease modification. You can insert a hole or add a zipper to create custom resealable spice packaging.
Although the lay-flat pouches are suitable for single-serve applications, we also enable customization. You can opt to incorporate a zipper on your lay-flat orders. The zipper helps you get resealable printed spice bags for your needs.
ROLL STOCK FILM FOR SPICES
Our line of custom spice bags includes roll stock film for spices. We can produce a film for your custom made spice bags in as little as one business day. Furthermore, you can order as many or as few custom spice bags with the logo as you need, including one pouch. We have no minimums or maximums, enhancing convenience for any customer requirements.

Our roll stock film incorporates different materials. It lets you choose spice bag packaging that matches your preferences. You can select metalized options among custom made spice bags to show your brand better. You can also find white designs to help your creativity with printed spice bags. Besides, our films for the spice packaging bags are available in matte and gloss finishes for increased design convenience.
CUSTOM SPICE PACKAGING DESIGN
The Packaging Lab provides a design service called "Design For Me." It assists spice manufacturers in getting custom resealable spice packaging. Design For Me presents an efficient and inexpensive solution for your creative needs, especially when seeking custom spice bags with a logo. The Packaging Lab team uses its expertise to ensure you get professional designs. Hence you incorporate it into your resealable spice packaging.

Additionally, we work with your help to form a capturing design that adds value to your brand. Our team can incorporate creative details on any order. This detail includes the rock stock film, stand-up pouches, and lay-flat packaging. This versatility helps serve different spice manufacturers' needs, ranging from individuals to companies. Our design cost covers printing on the front, back, and gusset of the pouch to enhance budget convenience.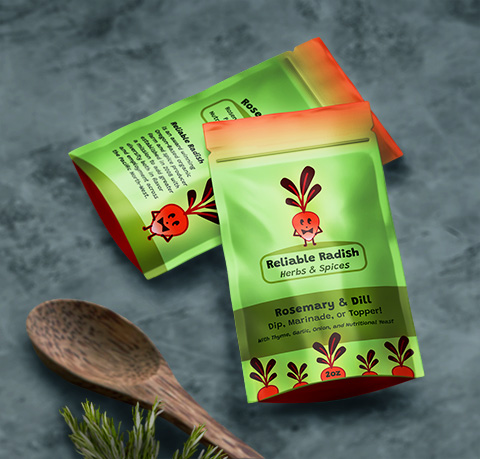 HOW DOES THE DESIGN FOR ME SERVICE WORK?
You can use the Design For Me service to customize your resealable spice packaging during your sale. The process involves a small fee payable only once after choosing your pouch. After this step, our design team will get in touch with you. This procedure will occur during office hours for one day to begin the creative process.
The application necessitates you to fill in a form with questions. The paper helps our designers understand your needs. You can also upload existing design samples you have. We let you upload multiple prints for one large order quantity when purchasing pouches of the same specifications and sizes.

Afterward, you get a thirty-minute phone call discussion with one of our designers. The dialogue focuses on comprehending your brand, products, and vision. We use the information you provide to develop three concepts for your analysis. The feedback you give includes a series of desired changes to adjust the proposals.
Once you view and approve our final design, you get a file. It comes as a print-ready to upload together with your packaging order. After this step, you get your custom resealable spice packaging with your desired print.
FREE SPICE PACKAGING AND POUCH SAMPLE PACK
The Packaging Lab provides standard packaging for spices and custom spice packaging. This packaging is to address different client demands. Spice manufacturers can personalize our packaging by getting custom spice bags. The logo helps to promote their brand in style.
We also offer a sample pack of our spice pouch packaging options. The sample enables you to identify and choose the right product. Visit us today and order a free sample of The Packaging Lab's various spice packaging bags!