THE FOOD MANUFACTURER'S GUIDE TO EVOH PACKAGING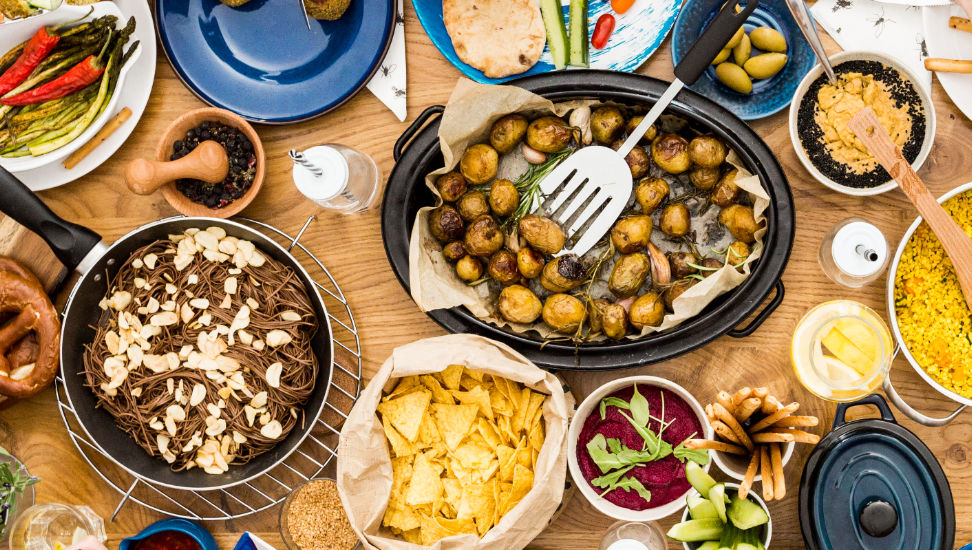 WHY CHOOSE EVOH PACKAGING FOR YOUR FOOD PACKAGING
It's essential to use a packaging material that extends the shelf life of food and improves freshness. EVOH food packaging does just that and more. Ethylene vinyl alcohol (EVOH) also provides flexible packaging. Conventional packaging materials do not offer all the properties that manufacturers seek. Thus, EVOH food packaging fills that gap. Plus, it enables retailers to stock products for longer, reducing food waste.
For example, polypropylene, a traditional material, provides an excellent moisture barrier but does not provide an adequate barrier to oxygen. Integrating an EVOH barrier into the packaging offers an excellent oxygen barrier. Get a deeper understanding of EVOH, how it's used, and its benefits by reading on.
UNDERSTANDING EVOH PLASTIC FOOD PACKAGING
EVOH is a thermoplastic copolymer that is flexible, glossy, and clear. It has flex-crack resistance, which is the capacity to withstand repetitive strain. EVOH film is also resistant to oils, hydrocarbons, and organic solvents. The EVOH film is best suited for packaging:
Food
Drugs
Cosmetics
Household products
And other perishable goods
EVOH is desirable because of its barrier resistance to oxygen, nitrogen, and carbon dioxide. EVOH packaging is mainly used for atmosphere packaging. In atmosphere packaging, you require a specific atmosphere within the packaging to enhance the product's shelf life. Generally, EVOH plastic food packaging is used for fresh products that need limited permeability.
HOW TO USE EVOH IN PACKAGING
EVOH is a go-to for most people looking for packaging that provides a reliable oxygen barrier. A high-performing oxygen barrier helps keep products fresh, and it also helps prevent untimely decomposition. How does EVOH packaging work?
EVOH is usually placed between the material's inner and outer plastic walls. The material could be a bottle, tube, or jar. Then, a thin adhesive coating gets added between the EVOH layer and the inner and outer walls. For that reason, EVOH plastic is commonly known as a multilayer barrier technology.
The EVOH film is widely known for providing an excellent barrier to gasses. But, when it comes into contact with moisture, EVOH loses its protectiveness. Consequently, EVOH plastic food packaging often uses a multilayer coextruded film structure. The structure uses materials that provide an exceptional moisture barrier, such as:
High-density polyethylene (HDPE)
Polypropylene (PP)
Polyethylene terephthalate (PET)
REASONS TO USE EVOH FOR FOOD PACKAGING
EVOH plastic has many advantages. Thus, it is the preferred material for food packaging for many people. Here are some reasons for choosing EVOH packaging.
POWERFUL BARRIER AGAINST OXYGEN
Food products spoil when exposed to oxygen, moisture, and temperature changes. So, you should limit the prolonged contact of food with oxygen. Doing so prevents the growth of bacteria and mold.
EVOH has an advanced molecular and crystalline structure. That structure makes it an excellent and effective oxygen barrier. The oxygen supply to the product is nearly zero. EVOH also serves as a barrier to other gasses like carbon dioxide.
This is another factor that makes EVOH an excellent choice for protecting oxygen-sensitive products. The EVOH barrier preserves the fragrance of the products in the package, and at the same time, it keeps unwanted odors from getting in.
Its multilayer structure is helpful for bags, jars, bottles, and flexible tubes. The EVOH layer is also useful for rigid packaging.
IMPROVED SHELF LIFE
As discussed before, moisture and oxygen contribute to food spoiling. In comparison to traditional packaging materials, EVOH has a better oxygen barrier, and that EVOH barrier lengthens a product's shelf life.
Regarding moisture, the EVOH layer combines with other materials to reduce its water permeability. In doing so, manufacturers also improve the shelf life of their food products. You don't need as many preservatives when a product has a longer shelf life.
BETTER PACKAGING APPEARANCE
According to research, EVOH resins have a high gloss and low haze. These two properties give it impeccable clarity. Applying EVOH resin to the outer wall of the package also gives it a sparkle. The sparkle enhances the appearance of the package.
Plus, you can choose a high-quality and attractive print to put on the package. Modern consumers prefer attractive graphics. An eye-catching packaging aesthetic will provide more incentive to purchase the product. Also, an EVOH resin surface is easy to print and does not involve any special procedures.
FOOD FRESHNESS
Exposure to oxygen may change the color and flavor of food. Some vitamins are also susceptible to oxidation. EVOH helps food maintain its flavor and color for a long time. It also helps preserve the smell and freshness of packaged food.
The gas barrier property of the EVOH film helps it preserve food freshness. The moisture barrier property also helps. EVOH can also help maintain the quality of sensitive products such as baby milk. The EVOH barrier safeguards the contents.
IMPROVED SUSTAINABILITY
You only need a small amount of EVOH material to attain the oxygen barrier. By using lower amounts of raw materials, you can help conserve the environment. In modern times, more people are environmentally conscious. That means that using such sustainable products can promote resource conservation.
With EVOH, you can use fewer raw materials and maintain the product's superiority. The result is lighter packaging. The packaging is also free from chemicals that harm the environment and is easily recycled.
GUARANTEED SAFETY
With EVOH food packaging, you don't have to worry about endocrine disorders. That is because EVOH is free from elements that cause endocrine illnesses. These elements include chlorine, metals, and dioxins. The disorder is a condition caused by the malfunctioning of the endocrine system. The system is in charge of producing hormones.
EFFICIENCY
EVOH packaging reduces production costs. A reduction in production costs can benefit your bottom line. Also, EVOH reduces the amount of packaging waste present. Less wastage means better utilization of raw materials, which also boosts production efficiency.
You can design the barrier film in EVOH packaging for aseptic filling. Doing so reduces the amount of energy used for processing. Less energy means lowered costs. Having lightweight structures with a barrier film is advantageous. They allow for the transportation of more goods compared to heavy packaging, improving efficiency.
WEATHER RESISTANCE
EVOH packaging has excellent weather resistance. When exposed to sunlight, the material maintains its color. It does not change to yellow or obtain an opaque hue. Generally, EVOH has great resistance to weather effects. The packaging material also has antistatic properties. When EVOH plastic gets used on the surface layer of the package, it prevents dust buildup.
RESISTANCE TO OIL AND ORGANIC SOLVENTS
EVOH material resists oils and organic materials. The EVOH layer is suitable for packaging oily foods and edible oils. This particular property also makes it excellent for packaging mineral oils and organic solvents. Using EVOH for such products helps protect their integrity.
BRINGING IT ALL TOGETHER: EVOH PACKAGING IS BETTER FOR FOOD
Using oxygen-permeable packaging for heat processed foods is risky and may reduce food quality. Traditional inventions do not solve the problem because they are not very durable. The development of EVOH plastic provides the perfect solution for oxygen permeability.
With its oxygen resistance, EVOH packaging maintains food quality. It also provides a host of other benefits. EVOH food packaging is one of the most widely used methods in the industry. Hopefully, you now know why. Contact The Packaging Lab today if you are ready to choose EVOH plastic food packaging.