CUSTOM DOG TREAT PACKAGING AND POUCHES
A large percentage of dog owners factor in brand names when making purchasing decisions for their dog treat products. The Packaging Lab is here to help dog treat manufacturers establish professional branding that will give you a considerable advantage over your competition.
We offer high-quality custom dog treat packaging solutions such as stand-up pouches, lay-flat pouches, resealable dog treat packaging, and roll stock film packaging for dog treats.
DOG TREAT POUCH PACKAGING
The Packaging Lab manufactures two types of flexible dog treat pouch packaging namely; the stand-up pouches and the lay-flat pouches.
Both of our dog treat pouch bag styles are produced with quality materials such as metalized films in order to maintain your dog treat's freshness, high-quality taste, and extended shelf life.
Our dog treat pouch packaging bags are available in a wide variety of sizes, finishes, and features that you can choose from.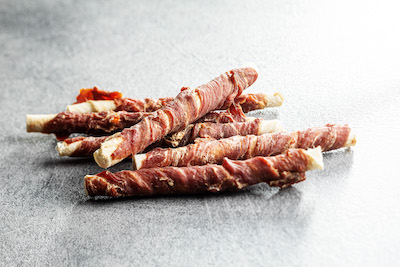 STAND-UP POUCHES FOR DOG TREATS
At The Packaging Lab, we manufacture custom printed stand-up dog treat pouches bags that have a sturdy build which provides for a good surface area to display the printed dog treat bags design and thus give your stand-up pouch an eye-catching presence on retail shelves.
Due to the gusset design at the bottom of the pouch, our stand-up pouches can be a great option for holding bulkier and larger volumes of your dog treats products.
You may opt to have your custom dog treat packaging designed with a transparent window to see your treats right in the package. Offering your potential customers a quick sneak peek of your dog treats. Customers love to be able to see a product before they buy it, and our pouches with windows do just that!
LAY-FLAT DOG TREAT POUCHES
The Packaging Lab provides dog treat manufacturers with custom-made dog treat bags that lay flat. This is because flat dog treat packaging is generally a cheaper alternative to manufacture on a unit basis compared to the stand-up pouch.
Lay-flat dog treat pouch packaging is also a good alternative for those with limited storage spaces. It's also easier to transport and store in warehouses due to its compact design.
Although lay-flat packaging bags are designed to lay flat on the display, you may opt to have a hang-hole perforation design on your custom-made dog treat bags. This adds the option of having your product displayed on a retailer's peg, which in turn increases product visibility and grabs the attention of potential buyers.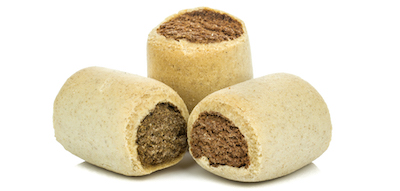 RESEALABLE DOG TREAT PACKAGES
We offer resealable dog treat packaging to help keep your dog's treats fresh and give you peace of mind that your pup has safe snacks. Extend product shelf life, prevent spillage, and create an easy on-the-go packaging solution for your dog treats today.
ROLL STOCK FILM FOR DOG TREATS
Dog treat manufacturers consider roll stock film to be the most efficient and flexible packaging solution available for dog treats. Roll stock custom dog treat packaging consists of a reel of laminated film wrapped around a central cardboard base.
The Packaging Lab produces high-quality custom roll stock dog treat packaging bags which can be used in almost any fill, form, and seal (FFS) automated machinery.
With the help of our able team and the latest digital printing technology, we are able to produce high-quality roll stock dog treat packaging bags that deliver a powerful brand identity with its superior graphic, with incredibly fast turn-around times.
Our line of packaging materials can be designed with either Matte or Gloss finish, which include:
Thick Gauge Clear
Thick Gauge White
Medium Gauge Clear
Medium Gauge metalized
Thin Gauge Clear
CUSTOM DOG TREAT PACKAGING DESIGN
Whether you are looking for printed dog treat bags or custom dog treat bags with logos, we are here for you.
We know that when it comes to custom-made dog treat bag design, you may need some help developing the great ideas you have for your product's graphic design. Regardless of the shape or size of your custom dog treat packaging, our team of professional designers is here to work with you to create an eye-catching design that will complement your brand.
The Packaging Lab can help you come up with brilliant designs that will bring out your product's personality by offering a wide range of design configurations and packaging solutions tailor-made to give your brand better visibility.
You can follow our simple packaging "Design For Me" procedure that will assist you to come up with the best design for your dog treat packaging bags. Here is how it works:
Start by choosing your preferred packaging and pay a small one-time fee to get the process started.
Then fill out a questionnaire providing us with the type of custom dog treat bags, size, and other features you need.
Provide us with any existing design you have.
Once we review your dog treat packaging requests, our designer will schedule a 30-minute consultation with you to get a better understanding of your brand.
After processing your request, we will send you three conceptual designs for your review.
Once you approve the design, you will immediately receive a print-ready file of your custom dog treat bags with your first packaging order.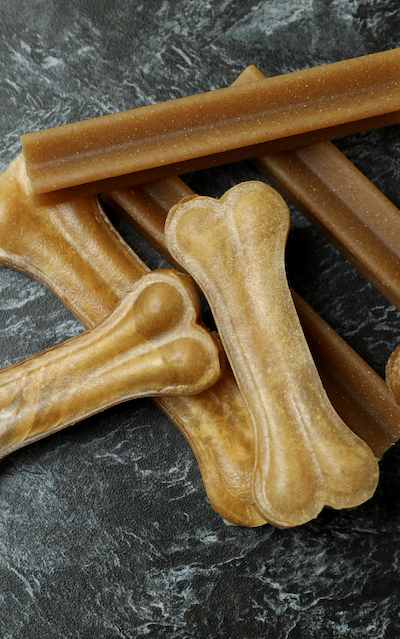 FREE DOG TREAT PACKAGING AND POUCH SAMPLE PACK
Having so many designs in the marketplace to choose from, you may not be exactly sure where to begin. This is where we come in! Coming up with the right custom dog treat bags for your dog treats doesn't need to feel like an impossible task anymore.
If you are selling dog treats and want to package them in flexible printed dog treat bags, we would love for you to give us the opportunity to send you a free sample pack of our custom dog treats bags for you to review.
This would be a great opportunity for you to get to experience and see for yourself the quality and craftsmanship of our flexible printed dog treat bags and get to test the effectiveness of our shipping timelines.
We look forward to being your preferred custom dog treat packaging supplier. You can order your free sample pack today.