CUSTOM NUT PACKAGING AND POUCHES
If you're looking for custom nut packaging with a minimum turnaround time, then the Packaging Lab is the place for you. We offer an easy-to-use order system, no minimum order requirements, several packaging options, and as little as a 24-hour turnaround.
Not sure what you need? We offer a sample pack to help get you started. Don't have a design in place? We have you covered there as well.
POUCH PACKAGING FOR NUTS
We produce two types of nut pouch packaging. The stand-up and the lay-flat pouch. Visitors can custom print both options. Each pouch can have zippers or holes installed for resealing or hanging up for retail.
You can get custom-made nut bags in several sizes, three different materials, and two distinct finishes. All pouches come with tear notches. However, you can request us not to include that option. Let's take a look at the different functions of stand-up and lay-flat nut pouches.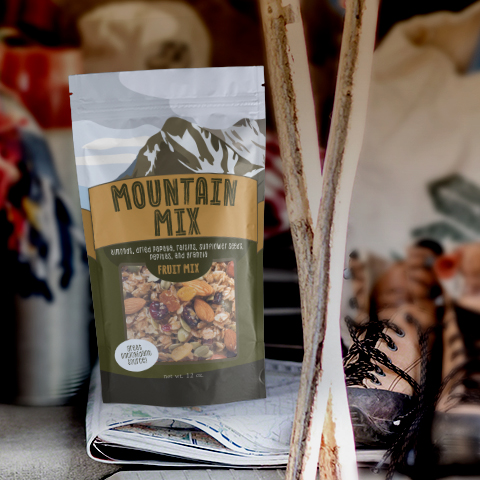 STAND-UP POUCHES FOR NUTS
The stand-up pouch is the option you want if you're looking for nut pouch packaging with more volume or bulk. It comes with an added gusset at the bottom, allowing it to stand independently. If you want a product to grab attention on the shelves, the stand-up version will accomplish that goal. Stand-up pouches are also easier to fill without help or spilling, so it creates less waste.
All stand-up pouches come in 12 standard sizes from which to choose. You can select pouches that come in clear, white, or metalized material. You can customize your packaging for nuts down to the finish and choose whether you want Matte or Gloss.
LAY-FLAT NUT POUCHES
The lay-flat pouch — also known as the pillow pouch — is an excellent option for those who want less material and easy storage and is great for single-serve uses. Our quality plastic materials are space-efficient and lightweight, reducing transportation costs and limiting storage expenses.
The lay-flat pouches come in eight standardized sizes. Like the stand-up pouches, you can also choose if you want them to come in clear, white, or metalized material. We provide customers the option of a matte or gloss finish. Your customers will appreciate our resealable lay-flat pouches with zippers for multi-serving packages of nuts.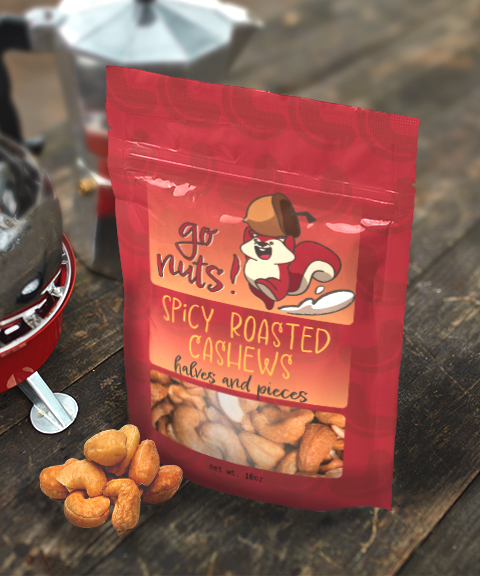 RESEALABLE NUT PACKAGES
You may want to choose resealable nut packaging for your bestsellers that you know people buy in large quantities.
Whether you decide to go with the lay-flat pouch or the stand-up pouch, we offer the option to have a zipper inserted in your nut packaging bags, so your customers can reseal the package to keep their nuts fresh for later.
ROLL STOCK FILM FOR NUTS
We apply roll stock film when you already have your own packaging machinery or if you're utilizing the services of a contract manufacturer or packager. We can create and produce your custom film stock in as little as one business day. Our roll stock film comes in a variety of sizes to fit your nut packaging needs.
You can choose the material from thick gauge clear, thick gauge white, medium gauge clear, medium gauge white, medium gauge metalized, or thin gauge clear. You can also pick between a matte or gloss finish. The film also comes in several unwinding orientations and repeated lengths that are specific to whatever machinery you're using.
CUSTOM NUT PACKAGING DESIGN
Making a custom design is easy. To make custom nut bags, start by picking your product. You can choose from custom nut packing in the stand-up pouch option, the lay-down pouch option, or if you're getting roll stock film.
Next, create your print design. You'll have to submit it as a high-resolution PDF File. We have all of our file guidelines on our website for easy access. Then, customize your order to your specifications, what size you need, when you need it, etc. Upload your print files for the design process, place your order and wait for your printed nut bags to arrive.
If you need help with the actual graphic designing part of your custom nut packaging, we can lend assistance. Design For Me is a simple, fast, and inexpensive process. If you're choosing to get help with the design process, select your packaging, pay a small one-time fee, and someone from our Design For Me team will contact you within one business day to get the process started.
FREE NUT PACKAGING AND POUCH SAMPLE PACK
Creating custom nut pouch packaging entails many crucial decisions. That's why we make the process accessible for anyone. With our straightforward procedure, you can create effective packaging with stunningly beautiful designs.
Choosing the correct custom packaging for nuts can be overwhelming. Try out the free sample pack that includes our stand-up pouches, our lay-flat pouches in all standard sizes, film materials and finishes, and print overruns from actual customers. Test your products with the sample pack, and see how it works.
Visit our website today to order your free sample pack to get inspiration for what you might want to include on your nut packages and to see how well they fit your products.