CUSTOM TEA PACKAGING AND POUCHES
Selecting the proper packaging for tea products is vital to attract first-time buyers and repeat customers. You want attractive packaging for teas, appealing to the eye, while also keeping your products fresh. Some custom-made tea bags may best be used for loose tea packaging, while for other printed tea bags you may need a different type of packaging. However, you want your logo and design to be universal for all your variety in tea packaging bags.
The Packaging Lab can help you design packaging for teas and create every type of tea packaging you require including flat tea packaging, stand-up pouches, and other tea bag packaging. We can help you with custom-made tea bags and custom resealable tea packaging for ease of use by your customers with no minimum quantities. Our custom-made tea bags are designed and created right here in the U.S., and we offer quick turnaround times to meet your tea bag packaging needs.
TEA POUCH PACKAGING
Whether you are packaging fresh loose-leaf tea leaves or tea bags, one thing is universal. Tea needs airtight tea packaging bags protecting from moisture, odors, and light while keeping it fresh. The Packaging Lab will provide tea pouch packaging and custom resealable packaging designed just for your products.
The Packaging Lab offers clear, white, and metalized packaging in a variety of sizes to suit your needs. Choose from our stand-up pouch or flat tea packaging for custom tea bags with a logo representing your company. We can also create custom resealable tea packaging for any of your products.
There is never a minimum order and we offer a fast turnaround time to get your products on the market quickly.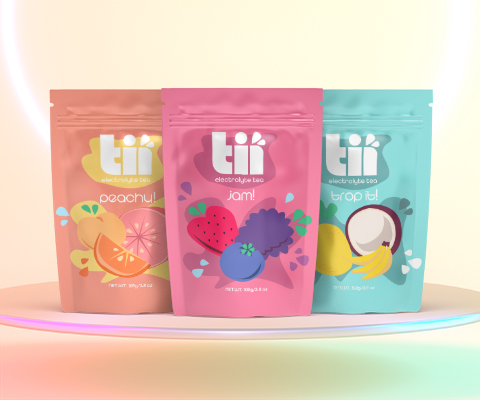 STAND-UP POUCHES
Stand-up pouches make great packaging for teas while keeping your product fresh and protected. The Packaging Lab's stand-up tea pouch packaging is made with an added gusset on the bottom to allow the bag to stand on its own. Our stand-up pouches are perfect for bulkier items or larger volumes while attracting the patron's eye. Add our zipper closure for custom resealable tea packaging.
Our custom-made teabag stand-up pouches range in size from 3.25" wide x 4.75" high with a 2" gusset to 12" wide x 12.5" high with a 3.5" gusset. Order the quantity you need in any size.
Using stand-up pouches as custom tea packaging for your printed tea bags allows space, both front, and back, for custom designing of your brand and the message you want to convey to your customers.
LAY-FLAT POUCHES
If you prefer a more streamlined option, consider our lay-flat custom tea bags with a logo. Fit for a variety of products, lay-flat pouches are great for storage and shipping purposes. If you offer mail orders of your products, flat tea packaging pouches are a great option.
Our custom tea packaging can include a hang hole allowing retailers a choice in display options for your printed tea bags. Like standup pouches, our tea pouch packaging can come with a zipper for custom resealable tea packaging.
Flat tea packaging is cost-efficient and easy to use. We can design your flat tea packaging like your stand-up tea bag packaging, in a variety of options. We offer sizes ranging from 3.25" wide x 4.5" high to 7" wide x 12" high, but we can also create custom sizing. We provide a quick turnaround for your packaging for teas with shipping as fast as 24 hours upon order.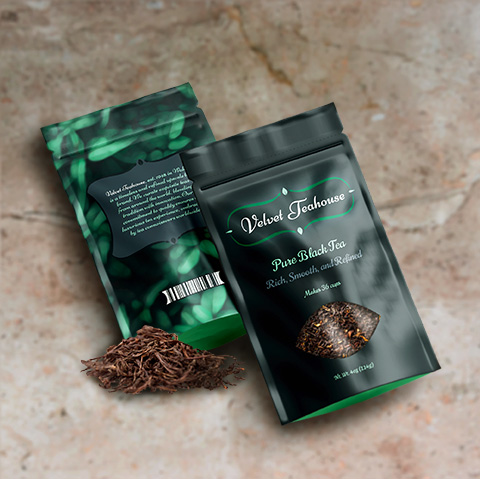 POUCHES FOR LOOSE LEAF TEA
If your product line includes loose-leaf tea, you will appreciate The Packaging Lab's customized option of a window on your custom tea bags with a logo, allowing your customers the opportunity to visualize your loose-leaf offerings.
No matter which type of tea pouch packaging you use, we can offer printed tea bags with windows as packaging for your loose-leaf tea. Our flat tea packaging and stand-up tea packaging bags provide moisture-free, air-tight sealing to maintain your tea's quality and taste.
RESEALABLE TEA PACKAGES
The Packaging Lab's custom resealable tea packaging is available for both the flat and stand-up options. Resealable tea packaging is desirable for your customers wanting to be able to keep their tea as fresh as possible, for as long as possible. Our custom zipper resealable packaging for teas can be added in most sizes.
ROLL STOCK FILM FOR TEA PRODUCTS
The Packaging Lab also offers roll stock film tea packaging to meet our clients' needs. Our custom tea bags are created specifically for you with your business logo with the unwind orientation of your choice. They are available in matte or glossy, thin to thick gauge, and in clear, white, or metalized. Simply tell us about your choices for your custom-made tea bags.
CUSTOM TEA PACKAGING DESIGN
Whether you are just starting with your tea business or have been in business for years and are ready to revamp your tea packaging options, our graphic design team is ready to help your custom-made tea bags get noticed!
Here is how our Design for Me packaging design works:
Choose your first tea packaging pouch style and size
Pay a one-time small design fee
Fill out our questionnaire providing what you want to convey on your custom-made tea bags
Upload any existing design assets you want to use
Have a 30-minute phone consultation with our designer regarding your products, tea bag packaging, and vision
From this, we will be able to send you three concepts of custom tea bags to preview. You can then offer feedback and request any desired changes. Upon approval of your final design, we will provide a print-ready file with your tea bag packaging order.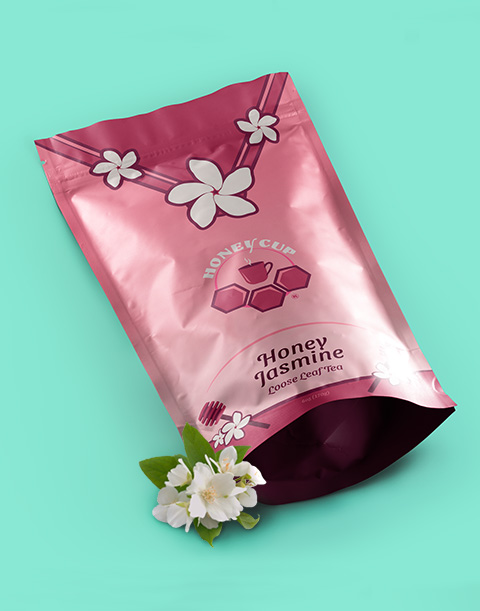 FREE TEA PACKAGING AND POUCH SAMPLE PACK
Ready to check out our tea packaging bags? Great! Let us send you a free sample pack of printed tea bags! You will receive a variety of sizes in the tea packaging bags of your choice. Want to see both stand-up pouches and flat-lying packaging? We are happy to send you sample custom tea bags in a variety of sizes.
We can make your custom tea bags stand out from the rest. We are the only U.S. packaging company with a turnaround time of one business day for custom tea bags with no minimum quantity required. Order your sample pack today!